Princess Luna
Lotus Crystal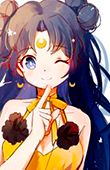 Title

:
GC's official Luna. Previously Sailor Selene
Posts

:
7563
Join date

:
2012-02-29
Age

:
24
Location

:
Norristown, Pennsylvania

Subject: [Advanced] Crossover: Luna (Usagi the Vampire Slayer) 30th March 2015, 9:29 pm

---

Advanced Character Profile

Character Name: Luna Giles
Gender: Female
Age and Date of Birth: Age 30, May 15

Used Canons:
Manga, Anime, Buffy the Vampire Slayer TV series

Appearance: Luna is a woman in her 30s with long black hair. She tends to wear it with two odango styled buns on the side with the rest of her hair flowing freely. She has blue eyes. She is pale and stands at about 5' 4". She is slim and semi muscular. She tends to wear clothes in the colors black, yellow, purple, and grey. She usually wears professional clothing since she's a librarian. Her makeup is very natural, although every once in a while you'll see her with cat eye makeup.

Personality: Luna is usually very sweet, although she can get a temper, usually with Usagi or the Watchers council if they're rubbing her the wrong way. She is seen as a general authority figure and sometimes a mother figure to the teenagers in Usagi's group of friends (the scoobies). She can come off as a bit stuffy, but she is also nurturing and tries to drive others to do their best. She can be mysterious at times because she doesn't speak too much of her past, unless it creeps up on her.

Dreams: She dreams of a world where young girls, mainly Usagi and Minako don't have to fight evil, where they aren't avoiding an apocalypse every other week. And in the non-slayer area she dreams of becoming a musician.

likes: hard workers, star shaped candy, sea food, reading, fencing, pudding, tea

dislikes: evil, Ethan Rayne, talking about her past, taking orders she disagrees with, coffee

Any Unique Abilities/Skills: An immense knowledge of demonology, knowledge of slayer combat, moderate ability to perform spells, fluent in many languages (Latin, Ancient Greek, German, Sumerian), talented singer and guitarist, good with melee weapons.

History:
Luna has kind of a dark past at times. She grew up in London and studied history at Oxford University. Her father was a watcher and when she was old enough, she started training to become a watcher as well. Her father and her had a very tense relationship. One day she was sent on a mission with four other trainees to go get rid of a vampire. The information was wrong and they were attacked by a demon. The demon killed the other trainees and started to feed on her. Luckily some members of the watcher council came to help her before she was killed.

When she was 21 she left her responsibilities as a watcher and dropped out of Oxford to join a coven that used dark magic and worshiped a demon. After one of their members died, Luna came to her senses and left the coven. However she made an enemy of one of the members Ethan Rayne, he would come to Tokyo to mess with him at times and stir up trouble with the use of black magic.

After she left the coven she went back to the council and finished up her history degree at Oxford. A few years later she was ready to become a full blown watcher and was sent to Tokyo to train, and of course watch, Usagi. On Usagi's first day she tries to introduce herself as her watcher, but comes on a bit too strong and scares her away, but after a vampire attack at the school Usagi comes to her for help and they start to work together. Eventually, the rest of the Scooby Gang comes into the picture and they all start fighting evil together.


Storyline Specific Information: Optional! To be filled in during storylines, not before! This section is for you to detail information about your character that is specific to a certain storyline(s). Fill out this section with each separate storyline, so you don't have to send multiple character profile applications for the same character.


RP Sample: The RP Sample should involve the character you are applying for and the sample must be at least 100 words. We've provided some themes to get you started.

You get a call on your communicator: A Youma's attacking in the park! Where are you? What happens when you get there?

Luna was in the Library looking over some demonology texts and mentally preparing for what could happen anytime in the future. There are many apocalypses that could happen at any time, you know. She was always trying to prepare for the worst. As she's reading with her cup of tea her phone rings. She picks it up and immediately she knew something was wrong. Usagi never calls her when she's out patrolling. "Usagi is something the matter?" Luna asked worried over the phone. She listened as Usagi told her of a group of four vampires that attacked her in the park. Something felt different about them, they were much stronger and her and Mamoru barely got out alive. Luna responded, "Did they have any distinctive markings or rings?" Usagi told her about rings that they were each wearing and Luna became worried. "Just as I thought the apocalypse is on the rise." Luna said, "Hold on I'll come meet you. We should talk about these vampires. The end of the world might be near."

___________________________

Proud mentor of Zoey900
Princess Luna
Lotus Crystal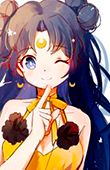 Title

:
GC's official Luna. Previously Sailor Selene
Posts

:
7563
Join date

:
2012-02-29
Age

:
24
Location

:
Norristown, Pennsylvania

Subject: Re: [Advanced] Crossover: Luna (Usagi the Vampire Slayer) 6th April 2015, 4:47 am

---

bump

___________________________

Proud mentor of Zoey900
Sailor Saturn
Outer Senshi Admin
Events & Storyline Admin

Title

:
Definitely not secretly a super hero.
Posts

:
4278
Join date

:
2012-07-23
Age

:
27
Location

:
Sweden

Subject: Re: [Advanced] Crossover: Luna (Usagi the Vampire Slayer) 14th April 2015, 1:19 pm

---

I love all the things you've added for her xD Especially the star shaped candies hehe That's very cute =) The line in her personality where you mentioned that she drives people to do their best is perfect, too xD

Everything looks good! I bet she will be a lot of fun to play xD

Approved!

___________________________

Oh I, Grover, am big and tall

and very smart and kind of cute and wonderful

I think that there is nothing I cannot do

And you and you and you

are fine and growing too.