Titan Soldier Sailor Cronus-- The Soldier of Stars and Destiny!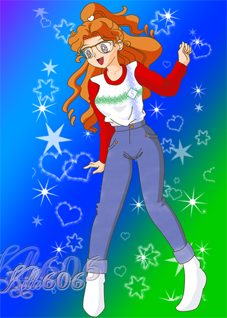 Character Name:
Kitti Teriana
Gender:
Female

Age and Date of Birth:
Dec 9, age 16

Used Canons:
Manga, but rarely makes references to original; character is from Titan Soldier Sailor Cronus manga series

Appearance:
Kitti is Caucasian with flowing, wavy caramel colored hair, which is most often secured with her prized silver heart button. She wears glasses, and her eyes are a gentle shade of violet. She stands 5 feet 6 inches tall.
Her favorite style of clothing is denim, and she wears pants more often than skirts. The colors she tends to wear most include blue, yellow, and violet (purple). She favors comfort above fashion, and she likes to wear boots. When not transformed as Sailor Cronus, she sometimes wears her brooch fastened to her shirt.

Personality:
Kitti's default mood is cheerful and energetic, and she is rarely brought down from this mood. Much like a cat, she can be easily distracted, surprised by sudden loud noises, and she likes to play with random things that happen to be within reach. She is a good listener and tries to give good advice to her friends. She can get hungry easily, due to being from a poor household and not always having enough food before school.
Kitti enjoys reading, and she tutors other students after school in English/ Lit and history. She enjoys latch hook and loves to collect stuffed animals, candles, and ceramic and glass figurines. She loves nearly all animals, including spiders and insects.
Being a book lover, Kitti wishes to open a bookstore of her own, though she hasn't thought much of what else she wishes to do in the future, instead mostly staying focused in the present, as she is raising her brother by herself.
Though she gets good grades in English, Literature, and history class, she has a weakness in math. She hates needles, bugs that can sting, and is phobic of heights. One of her biggest weaknesses is her tendency to doubt herself.
Her favorite foods include tuna, sushi, chocolate, strawberry cheesecake, and milk. She hates radishes and other forms of fish and seafood (unless it's in sushi, which she loves).

History:
Of special note: Kitti/ Sailor Cronus has no previous life; she is a "special" kind of Sailor Soldier, to say the least. Her powers are acquired through the Resonating Stones, and there is a lot of mystery surrounding the origin of those crystals. She became a Sailor Soldier when Helene found her and her presence activated the crystal hanging from her necklace (a shard of the Resonating Stones), transforming it into her transformation brooch. In that encounter, she uncovered a villain's plot to gather all the Resonating Stones and to mind control students in the process, which Sailor Cronus managed to restore to normal. Her current mission is to gather the shards of the Resonating Stones; Helene has discussed nothing further with her about it.
Kitti's father passed away when she was young; her mother passed only a year before she became a Sailor Soldier. Since then she has been raising her ten-year-old brother Marc by herself, fudging some of her paperwork so social services doesn't separate them. She works part-time after school tutoring other students and tending a local bookstore for an elderly couple, who are friendly enough to assist her in providing for her brother.
Kitti was quite young when her father died, which didn't leave much room for her to be affected by it. Her mother's death was hard for her, and though she has mourned her death, she currently doesn't devote much time to it due to her responsibility of raising her brother. She has recovered fairly well, still having an energetic personality and positive outlook on life. Yet at the same time, with Helene's appearance and Kitti's transformation into Sailor Cronus, she does soon feel the pressure on her and it starts to take its toll on her.
She lives in Ascauga Lake City and attends Ascauga Lake City Academy. Her best friend and classmate is Samantha (nicknamed Sammi), who loves to take her to hang out at the mall or other social hangouts, but she also sometimes gets them both in trouble for various reasons. Her other friends, Erica and Stacy, keep her updated on news about Sailor Calypso, another Sailor Soldier in their hometown, as well as news about Sailor Cronus.
Other Noteworthy Facts: She owns a necklace with a jewel on it from her childhood, although that jewel transformed into her transformation brooch when she met Helene, her new guardian two-tailed cat.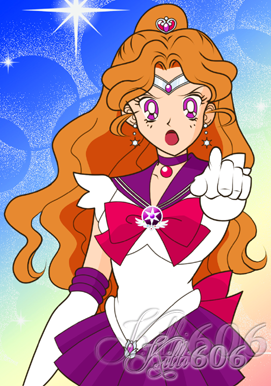 Senshi Name:
Titan Soldier Sailor Cronus
Realm of Influence(s):
Stars and destiny

Transformation Phrase:
Cronus Celestial Power-- Make Up

Uniform:
[above]

Powers:
The button in her hair gives her a "sixth sense" allowing her to see through illusions and guiding her in battle (for instance, dodging attacks).
The Crocus Pearl (jewel on her belt) allows her to use her Crystal Stars Restoration, a beam of starlit violet crystal energy which restores mind controlled victims. It also allows her to use Celestial Ray Crystallization, a variation of Crystal Stars Restoration, which encases the enemy in crystal to incapacitate them. 
When she obtains Cronus Kerykeion she can use Twilight Starshower Barrage, which conjures a violent meteor shower over multiple enemies to burn or generally damage them. 
Cronus's powers can sometimes waver in effectiveness due to her inexperience and self-doubt. However, she later overcomes these tendencies and as her confidence grows, so do her powers.

Weapons or Magical Items:


Transformation Brooch: It is a similar theme to Sailor Moon's, being a violet circular one with silver decorations on it-- a six-point star and a pair of wings-- and some colored jewels.
Crocus Pearl: a violet pearl in the center of a silver crocus, which attaches to her belt, and is the focus of some of her attacks.
Heart Button: the silver and violet jewel in her hear shaped like a heart, which guides her in battle
Cronus Star Wand: A silver-winged, violet wand topped with a violet orb; inside can be seen a glowing silver star which spins and turns various colors when activating an attack.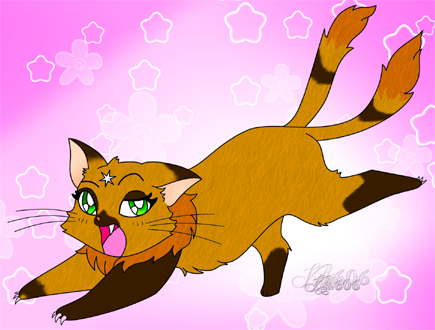 Guardian:
Helene is a two-tailed cat, or nekomata, who guides Sailor Cronus. Her primary mission is to guide Sailor Cronus into her powers as they collect shards of what are currently known as "Resonating Stones" or "Resonating Crystals". She helps to suppress Sailor Cronus's powers so they don't overwhelm her, as she is not yet strong enough to harness them completely by herself. She also acts as a spy when the situation calls for it, being generally small enough to sneak around unseen. She can be easily distracted, even changing her sentence in the middle of what is that red dot on the floor?


RP Sample:
[Though she has met Helene and obtained her transformation brooch, and even though she entertains the possibility of being a Sailor Soldier in her private thoughts, Kitti has so far refused to become a Sailor Soldier, fearing it will interfere with her other responsibilities. She carries on through her school day, but strange things have been happening-- her math teacher's behavior has turned cold and overbearing, then when she stops by the library after school to do the homework that was assigned to her online, she discovers a message telling students to "find the shards of the Resonating Crystals." Hypnotized by the message and preparing to search, she is knocked back to her senses when a careless student bumps into her.]
Kitti staggered, then caught the back of her chair, standing upright again. "What just--?" She blinked, then shook her head, looking around her. What had just happened to her? She glanced at the computer screen, then looked away quickly. "Something's wrong..." She glanced around the room to be sure no one was looking, then quickly clicked the switch on the computer to shut it off. "I have to go find that cat!" she said, darting out of the library.
The street where she had seen the strange two-tailed cat was quiet except for the distant sounds of traffic on the highway around the block. Shadows from the trees stretched across the sidewalk, and the sky was painted red and purple in the sunset. "Here, cat!" she called out, peering into the branches of the trees, hoping to catch a glimpse of those glowing green eyes. "Here kitty, kitty!" Her eyes scanned the shadows under the stone wall. "I'm sorry for running away from you!"
There was no response. No movement out on the sidewalk or in the trees. Nothing.
She sighed. "It's no use..." Out of habit, her hand went up to her neck to grip the now-charmless necklace. "She isn't going to come back. She's mad at me." She hung her head. "I don't blame her."
"Kitti!"
"Gyaahhh!" The sharp voice behind her made her jump, and fling her arms around a nearby tree trunk. Shaking, she peered over her shoulder.
It was the cat!
"Don-- don't scare me like that!" she said, pushing herself away from the trunk.
The two-tailed cat stared at her in bewilderment momentarily, then shook herself out of it. "We have to get back to the school! Quickly!" Without waiting to see if Kitti followed, the cat ran off toward the school.
Kitti nodded, following closely behind.