Advanced Character Profile
Character Name:
Ami Mizuno
Gender:
female
Age and Date of Birth:
16, September 10   
Used Canons:
90s anime
Appearance:
Ami has short, dark blue hair, blue eyes, and a plain, ordinary face that isn't especially pretty, but definitely isn't ugly, either.  She usually dresses rather conservatively, preferring to show less skin.  She usually includes a skirt or dress in her outfit, preferring those over shorts and pants.  Other than that, she wears a variety of clothes, from casual style to semi-formal.  Her outfit often features blue, as it is her favorite color.  Though she usually keeps her feminine accessories down to just a pair of dark blue stud earrings.
When going to a formal event, however, Ami will wear an appropriate outfit for the occasion.  This usually consists of a formal dress, earrings (often other than her normal dark blue studs), a formal necklace, and high-heeled shoes or sandals.
Personality:
At home, Ami lives with her divorced mother.  One of the ways this has affected her is that she had to, and did, learn how to support herself at a young age due to her mother working long hours and thus rarely being home.  Another way this has affected Ami is that, due to being in close contact for so long with her mother who works as a doctor, Ami has long dreamed of becoming a doctor herself when she grows up.  Also, Ami was quite insecure early on in the series due to the fact that she often perceived her classmates as ridiculing her for her bookworm-like tendencies (see History section below) - a perception that was often true, especially before she first met Usagi Tsukino.  But as the series progressed, Ami became more confident in her abilities.  Another way Ami evolved throughout the series is that she became more social and more interested in pop culture as the series progressed.  Perhaps the best example of this was early in Sailor Stars season when she admitted to being member # 25 in the Three Lights Fan Club and showed her gold-colored membership card in it (thus topping all of her close friends in this regard).
Ami loves to be with her close friends (the other four inner senshi girls).  She is always willing to help them, whether that be by acting like a tutor in their group study sessions or discussing what to do about the latest senshi enemy or anything in between.  Even towards other people, she is typically friendly and wanting to be helpful; about the only exceptions are when someone has attacked her or one of her friends - in which case, she will usually use her intelligence to come up with a strategy to defeat them.  She is always very modest, though, preferring to downplay her abilities, and becoming quite embarrassed when she comes out on top in anything not like a school test.
Any Unique Abilities/Skills:
Ami is extremely intelligent - in fact, a rumor spread around Juuban Jr. High once she transferred there that she had an IQ of 300. 
History:
Until she transferred to Juuban Jr. High early in her second year of junior high school (at the age of 14), Ami was like the stereotypical bookworm - she had few friends and spent most of her spare time studying.  This changed when Usagi befriended her one day while she was walking home from school.  Ami showed Usagi that she is actually quite friendly when given the chance.  It was later that afternoon that Ami found out she is also Sailor Mercury.
Even though she then evolved into less of a bookworm, she still consistently got the highest score on tests through the rest of her schooling at Juuban Jr. High.  She is now age 16 and is in the middle of her first year at Juuban High School with her closest friends (Usagi, Makoto, and Minako - Rei is also one of her closest friends, but she goes to a different, private school).  Ami also helped her close friends study for their high school entrance exams when they were all in their last year of junior high school.
One of the challenges Ami had to face after she became a senshi also happened early in her third year at Juuban Junior High.  A vice-principal of this school stopped Ami on her way out of the school at the end of the schoolday one day and handed Ami a book she had accidentally left behind.  He then asked Ami if anything was bothering her, because it was unlike her to forget something.  He continued on by telling her he had high hopes for her in the high school entrance exams later that year, and at the end of their conversation, he expressed his desire that she just concentratrate on studying academics.  Unbeknownst to either of them, Usagi had overheard all this from an out-of-sight position.  But this last statement from the vice-principal caused Ami to wonder privately if studying academics was the only thing she was good for.  Ami had stopped somewhere else in the city to ponder this when Mamoru happened to notice her.  After a short conversation with him about dreams, Ami felt a little better, so she decided to go to the girls' study group after taking a swim in a nearby public pool.
At this swimming pool, Ami happened to run into Michiru.  Each of them had noticed and admired the other swimming, so Michiru quickly challenged Ami to a race once they both came up for air.  During this race, Michiru noticed Ami was fast, but slowed down near the end of it.  Once they were both out of the pool, Michiru asked Ami rather coldly why she had slowed down.  Ami felt so bad about the way Michiru took this (which was differently than Ami had expected) that she quickly left the pool area and changed back to her regular clothes.  Meanwhile, Haruka (who had officiated the race) noted out loud to her partner that Ami had unconsciously avoided a confrontation due to not having much confidence in herself and just wanting to become friends.  Michiru countered that she had just wanted to race Ami with all their strength, but Haruka just laughed at this comment.  This made Michiru think about how to make it up to Ami, since she did feel bad about the blue-haired girl's reaction.
A few minutes later, when Ami arrived at the room in Rei's shrine where their study group was being held, the other three girls quickly swarmed Ami to ask her academic studying questions they had.  But then Usagi shooed them all away from Ami, saying Ami needed to just study to become a great doctor.  Shocked by Usagi's reaction, Ami tried to tell them all that academic studying questions were alright with her, but Usagi stood strong in her position, telling Ami in closing that all she needed to do was study.  Privately hurt by this treatment from Usagi (which was the same as the treatment that vice-principal had given her), but not wanting any of her close friends to notice these feelings of hers, Ami quickly excused herself by saying she had forgotten something, then headed away from there.
Back on a city street a few minutes later, Ami stopped again to ponder that she had nothing besides the academic studying Usagi wanted her to focus on, which depressed her.  Then she heard a motorcycle engine revving behind her.  She turned and saw Haruka as the tomboy told Ami that Michiru wanted a rematch.  Ami decided to follow Haruka back to that public swimming pool on foot.
At this swimming pool, once they were both ready for another race, Michiru and Ami quickly agreed on the terms of it, then Haruka (officiating again) gave them the start signal.  They both gave it their all; during this race, Ami wondered to herself why she was putting so much effort into it.  She then realized it was because she didn't want to run away from anything anymore; she also realized it felt good to put all of your effort into something like this.  After this rematch was over, Haruka came over to the two worn-out swimmers and told them it was a tie.  Michiru then asked Ami the rhetorical question "Competing with all your strength isn't a bad thing, is it?"  And Ami had to agree with Michiru on this.  After Michiru offered her a friendly, helpful hand up out of the pool and told her with a smile that it was fun, Ami was smiling genuinely and had her full self-confidence back. 
Other Noteworthy Facts:
 Free-time activities that she enjoys the most : chess, swimming
Astrological sign: Virgo
Blood type: A
Favorite color: Aquamarine
Favorite food: Sandwiches
Least favorite food: Hamachi (yellowtail tuna)
Gemstone: Sapphire 
Storyline Specific Information:
We Could Be Heroes:
In this Alternate Universe plotline, when Sailor Lead Crow tries to take Usagi's Star Seed (in episode 193, during the Sailor Stars season), instead of being swallowed up by her own black hole before she is successful, Sailor Lead Crow is successful and gets Usagi's Star Seed.  In fact, Sailor Lead Crow finds that Usagi's powers suddenly transfer over to her, meaning (for example) that she can now transform into Sailor Moon.  Meanwhile, Usagi not only loses alll of her special Sailor Moon powers, but even forgets that she ever was Sailor Moon and the Moon Princess!  Usagi also forgets all her memories of Mamoru/Endymion and the dual identities of the guardian senshi.  So if they want Usagi to ever become Sailor Moon again, first Mamoru and the guardian senshi are going to have to convince Usagi that she used to be Sailor Moon!
Bleeding Blue:
This Alternate Universe storyline is a cross between the 90s anime and PGSM.  In it, Usagi/Sailor Moon and three of her inner guardian senshi act like they do in the 90s anime, but Minako/Sailor V acts like she did in PGSM, not really teaming up with the other four senshi until the end of this storyline.  Also more like PGSM than the 90s anime, a Dark Mercury exists; but in this case, she is not a brainwashed Ami.  This Dark Mercury was made by Queen Beryl after she somehow obtained DNA from Ami.  Though at the beginning of this storyline, Ami does not know that this happened or that Dark Mercury exists.  Also unlike PGSM (and thus unique to this storyline), this Dark Mercury works with Queen Beryl.
Flight Of The Thief:
 This storyline starts off in the middle of S season, right after the senshi have successfully whacked Tellu, and the only Witch remaining alive is Cyprine/Ptilol.  Also, Nishiki Toyotomi is a Mugen student.  Except he is not only an average high school student there - he has DID (Dissociative Identity Disorder), and moonlights at night as the master thief Ryu Lupin.  And Ryu is offered a deal by the Death Busters that he can't refuse - if he helps them find the Pure Heart Crystal Talismans, then they will give him riches beyond his wildest dreams.  Nishiki, though, is less than thrilled (to say the least).  Now he must balance his school & thieving lives and keep anyone from discovering his alternate identity.  Not to mention how Uranus and Neptune might take care of Ryu (again, to put it mildly) due to his connection with the Death Busters.  So who knows which side will emerge victorious in this version of the Infinity story-arc?  BTW, in this storyline, Ami is age 15, only in her third/last year at Juuban Jr. High, transforms with "Mercury star power, make-up", and doesn't yet have Mercury's last two powers listed below.
Source: 
Info in Other Noteworthy Facts section - except for the chess & swimming line - copied from the former website A Nitpicker's Guide To The Sailor Moon Universe.  Both pictures in Senshi Fuku section copied from the former Yahoo Group Sailor Magic.  
Senshi Information
Senshi Name:
Sailor Mercury
Realm of Influence(s):
Water
Henshin/Transformation Phrase:
"Mercury crystal power, make up."
Senshi Fuku: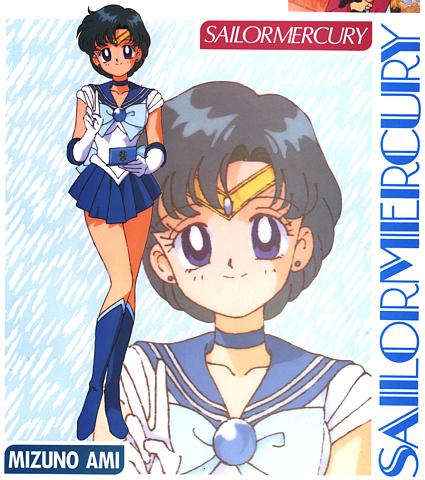 her first one (which she still had when age 15 & in last year of junior high)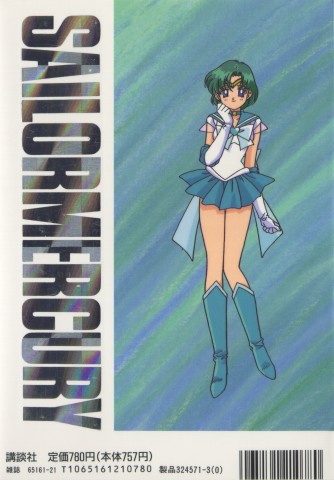 her second one (which she has when age 16 & in her first year of high school)
Powers:
 ~Sabao Spray~
Sailor Mercury spreads her arms wide while crying out "Sabao!" She then brings
her hands together, arms stretched out in front of her, so that there is only
inches between her palms. Ice blue energy forms between her hands in the form
of a glowing sphere, as it grows, she gives a single spin to her left, her arms shifting
so that her wrists cross, the energy hovering in front of her crosses wrists as
she comes to stand facing the enemy, once gain. She then cries out, "Spray!"
and sends her hands outward, shoving the sphere of blue energy at the enemy.
It bursts as it rushes forward, transforming into dozens of bubbles and
creating a thick mist which the enemy can not see through, though her fellow
Senshi can.
~Sabao Spray Freezing~
A more powerful form of 'Sabao Spray.' Sailor Mercury spreads her arms wide
while crying out "Sabao!" She then brings her arms together, keeping them stretched
out in front of her, so that there are only inches between her palms. Ice blue
energy then forms between her hands in the form of a glowing sphere. She holds
still there for a moment, then gives a single spin to her left and shifts her arms
so that they are crossed before her chest, hands spread wide and the sphere of
energy hovering in front of her. She cries out "Spray Freezing!" and thrusts
her hands forward, sending the sphere of energy rushing at the enemy. The sphere
splits apart into so many bubbles which strike the enemy and freeze them in place.
~Shine Aqua Illusion~
Sailor Mercury brings her hands to her chest, holding them against her bust
with her eyes closed, and summons her power. A single drop of water falls
beneath her before she begins to spin, bringing water droplets up and around
her body. Her arms rise into the air above her head, the droplets of water
growing and following her hands so that they hover above her pointed fingers
while she spins to her right. She then cries out "Shine Aqua!" and brings her
hands down and around while opening her eyes to face the enemy. She cries
out "Illusion!" and thrusts the water forward while her arms spread wide to either
side of her. The water droplets condense together, forming a stream of powerful,
icy water that strikes the enemy.
~Mercury Aqua Rhapsody~
Sailor Mercury thrusts her hand to the side, palm spread while she summons her
power. The symbol for Mercury appears against her palm before water forms
around it, spinning into a sphere that quickly rushes out to create the Mercury
Harp. Mercury begins to play the harp while crying out "Mercury Aqua Rhapsody!"
and the harp produces tons of watery ribbons which rush outward and collect as
they chase down the enemy, striking the target with a single, large stream of
spiraling water.
~Whirling Waterspout~
Sailor Mercury generates a waterspout (which is the over-water equivalent of
a tornado) and sends it spinning at the enemy.  Like a tornado, this attack can spin
at over 100 mph.
Note about Whirling Waterspout - This is an original attack I created completely
from my own mind.  I imagined it being quite fitting as the first new attack
Sailor Mercury would get after the end of Sailor Stars season.
Weapons or Magical Items: 
Other Magical Items
~Mercury Supercomputer~
This is a compact, hand-held computer which is connected to Mercury's visor.
When closed up, it looks like a thin, light blue credit/business card holder.
Using this computer Mercury can scan enemies and enemy territory and analyze
data to help find weaknesses and information to defeat the enemy. Luna gifted
it to Sailor Mercury and it is known to be connected both to the computer in
the Senshi Headquarters beneath Crown Game Center, as well as to the Eternity
Main System in the Moon Palace on the Moon. It is thought to have tons of
information within it, though Mercury has yet to discover everything it offers.
~Mercury Goggles~
This blue visor appears when Mercury presses a special button on her right
earring and helps her to do quick analyzing of any battle situation or enemy
without having to pull out the Mercury Supercomputer.
~Wristwatch Communicator~
Like the other Senshi, Mercury has a watch-like device which acts as a two-way
radio for communication. Hers is blue and gold with the symbol for Mercury on
the top face.
RP Sample:
Your character is running late for a meeting! Why are they late and what do they say when they get there? ((Reply as a role-playing post!))
 Ami had been at the library for over two hours.  Time always passed quickly when she was in there, since she enjoyed learning about virtually anything.  In fact, she often saw a tidbit while studying one thing that led her down a tangent, looking up and learning about some related subject.  Sometimes, this process would repeat itself, leading her to spend countless hours in the library.
Anyway, in this one particular instance, Ami had gotten sidetracked in this way until she was learning about ancient cultures in Central and South America.  At one point while reading about them, she happened to see the face of her watch.  It was less than 10 minutes until the time when she and her close friends had agreed to meet at Rei Hino's shrine for a study group!  Normally, she would already be there, because Ami always liked to be prepared in advance for everything!  This included arriving at meetings and other appointments very early.
Considering herself quite late, Ami quickly packed up her books and other papers, and put the library books that she had used on a sorting shelf.  Then she rushed out of the library and hurried along the sidewalks of her neighborhood of Tokyo as fast as she safely could while never running (Ami never liked exerting herself that much in any way other than swimming) toward Rei's shrine.
Finally, Ami reached the foot of the staircase leading into Rei's shrine.  Being quite tired at this point, she climbed up the stairs at walking pace to the top, then crossed the shrine grounds to the room where they typically held their study groups.  Entering it, she told the others there in an apologetic tone "Sorry I'm late.  I got distracted in the library," as she started to blush lightly in embarrassment.  Of course, it was now exactly when the study group was scheduled to start, but to Ami, that was late.