*rubs hands* ...Ooh, I get to tell the story!

(It's a bit long.)
Okay, so it all started last August at Power Morphicon in California, where he was a guest based on his role in the Zyuranger sentai series. On the first day, I just went as myself, no cosplay, but I was wearing a Sailor Moon shirt, and he noticed that. At that point, I'd only seen a few of the musicals in addition to Zyuranger (and the more recent Kyoryuger vs. Go-Busters movie that he was in), but I still wanted to show my Myu love as well, and it sure seemed like he appreciated that. (I'd changed clothes for it, but there was also a party/meet-and-greet event later that evening, and he was really, really nice to me there as well. I mean
really
nice...in that sort of "might be fancying you" kind of way. o.o) For the second and third days of the convention, however, I cosplayed a variation of his Zyuranger character (it was something I'd thrown together on the cheap only days before flying out), and he instantly became my number-one fanboy and was bordering on flirty with me the rest of the time. (I honest-to-goodness have photos where I've had people point out "you two look like a couple there." Yes, even though I was cosplaying a male character. Pssh, what's a 13-year age difference matter? >_> <_<) It was clear at every turn that he adored me (even though I never expected anything more than casual appreciation), and given that I was crushing pretty hard, I certainly didn't mind the attention.
Anyway...he was supposed to be a guest at the Lexington (Kentucky) comic convention back in March along with some other Zyuranger cast. In January, by random chance, I was contacted and friended on Facebook by their US-based agent/promoter, who wanted me to help promote and plan a dinner party to be held with them during the event (initially meant as a birthday party, since the convention happened to fall right during his birthday on March 14th), because I was one of the only people they could find who was both a fan and was going to Lexington. But in late February, it was announced that he had to cancel appearing at the convention due to recent illness and being unable to travel. I still went to the convention despite this, and the party still happened, but it wasn't the same. However, before the convention, I became friends on Facebook with more of the agent's partners/crew, and during the convention itself, I was friended by two of the other cast who were there. (This is somewhat important.) Also at the convention, they put together something that was a combination of birthday wishes and well wishes for us fans to sign and that would be sent along to him. I of course signed it with my real name, also noting that I was that cosplayer from Power Morphicon. (This is also somewhat important.)
Time passed, and we now move to late April, when I start seeing very curious things on my Facebook feed by way of these other friends. Wait...he was on Facebook now? How and when did this happen? As tempting as it was to want to send off a friend request as soon as I noticed this, I didn't do anything. I didn't want to barge in, and I didn't even know if I was supposed to know about this yet either. I decided to instead bide my time. If a time would come that I was supposed to properly know about this, I'd know.
On May 5th, about a week after I first started seeing those initial hints and just days before word went public, I woke up to this: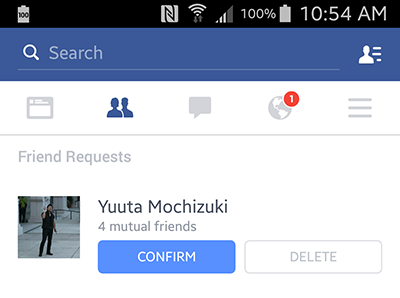 Now I'm sure part of it was because of my existing friend network, and how I'd made myself somewhat obvious (my profile photo on FB is a photo of us from the convention, and my cover photo is something from Lexington, plus how I signed that thing I mentioned), but simply that it happened this way--that he friended me first--proved that he remembered me from last summer and still had that adoration for me, and I was just so incredibly honored by that. If I'd hit "confirm" on that friend request any harder, I probably would've cracked my phone's screen!
And yes, he's actually interacted with me since then. At the time that happened, I was finishing up a pretty labor-intensive sword prop for that aforementioned cosplay (which I'd overhauled at the beginning of this year), and I was posting all my progress photos, which he frequently liked and occasionally commented on. The same happened with some cosplay test-run photos I posted ahead of Anime Central in mid-May, and then photos I shared from the convention itself. (I'm also waiting back on photos from a professional photoshoot I had done there--I know he'll like those a lot too when I finally get them!) And when my birthday rolled around on May 23rd (although this happened the evening of the 22nd for me, it was already the 23rd in Japan), he
actually personally messaged me
to wish me a happy birthday. I couldn't make this up if I tried. I was a big happy sobbing mess after that, because I really wasn't expecting anything when he's probably been getting inundated with friend requests every day and people posting all sorts of nonsense to get attention.
And Suzu might've seen this, since she and I are also friends there, but I kinda giggled the other day when I saw that he liked a photo I posted showing my small Myu program collection, as the one I'd gotten off eBay from the first show had just arrived in the mail and I was really excited about it. It's definitely not just about my cosplay, that's for sure!

And that, ladies and gentlemen, is the wild and wacky story of how I ended up becoming actual friends with a Myu/toku legend. Where will this go from here? I'm excited to find out!