Character Name: Keiko Yuuki
Gender: Female
Age and Date of Birth: 11, October 14th
 
Used Canons:
Manga + Anime
 
Appearance: Keiko has bright, blue eyes that match the color of sapphires. Keiko has long, caramel-colored hair that she keeps in two ponytails. She is short for her age, being 4'3 tall. Her weight is 80 lbs, and she is slightly chubby like Usagi because she eats a lot of food.  She usually stays in her elementary school uniform (sailor fuku) all day, but when she's not, Keiko likes to wear short jeans with rips in them and goth/emo clothes. Keiko's favorite color is black.

Personality:  Keiko has a balance complex, believing that when too many bad/good things happen, the balance in life is torn apart. Therefore, she is always sulking when she is talked to. However, deep down from her attitude, she is longing for some friends and someone to talk to. She likes to stay in her room and play video games all day, or read. Keiko hates going outside mainly because of the pollen and people. (Eventually, Keiko met Hotaru and they became best friends along with Chibiusa.) Keiko secretly loves blue bunny designs because of an old childhood toy that was given to her by her father, Takashi Yuuki. She also loves other blue and cute things despite her quiet and dark mask, and her main dream is to be the owner of a cute girly store. One of her many ambitions is to be stronger as a Sailor Senshi, and learn to control her powers with ease. Keiko has enormous latent ability, she's just seen as weak because she can't control them very well.
Keiko also loves to eat foods like mushroom pizza, sushi, cheese and beef tacos. She hates eating pickled radishes, curry rice, and root beer. (I added root beer in because I really don't like it either.)
Calypso/Keiko is actually a go-with-the-flow person, but if there's something that's worth getting, she'll fight for it. One of her biggest strengths are that she's witty, sneaky, and hard to find due to her skills at combat. (For example, she can hide in a bush and nobody would ever know she was there). She also has strength, so this makes her a bad rival to have.
Unfortunately, because of her past, this has shaped Sailor Calypso/Keiko's personality. And I'm sorry to say that she has more cons than pros. One of her biggest weaknesses are that she never trusts anyone unless there's some background information behind it. ~FLASHBACK~
Keiko was kidnapped by monsters (she didn't know back then) when she was about 7. The monster was disguised as a young, innocent looking toy master. The enemy had convinced Keiko that the "toy master" would give free toys. Keiko unfortunately bought in the trick, and the enemy knowing that she was a soldier, nearly killed her off. However, Sailor Saturn, who was 12 at the time, dashed in and finished the monster off. This is why Keiko never trusts anyone and vows to find the mysterious woman who saved her.
Keiko is also very negative, and usually assumes things before they happen. 
Any Unique Abilities/Skills: Keiko is a master at video games and logic puzzles. She was once a brilliant chess player when she was a kid, but after a trauma she quit. Logic puzzles come naturally to her.
History:
 In the time era of the Silver Millennium, Sailor Calypso was Saturn's personal guard senshi and the mentee of Sailor Saturn. Saturn was there when the satellite senshi was born centuries back, and the duo became inseparable since then. They were like day and night, and Saturn and Calypso never got bored when they were together, laughing and having fun. Sailor Saturn taught Calypso most of her powers, and how to fight, with Calypso doing the same for Saturn with agility and wits. (Saturn taught Sailor Calypso how to control her powers as well.) However, when the Silver Millennium fell to ruin and the Moon Kingdom crumbled to dust, Calypso tried to run away from the area she was guarding and fight the Dark Kingdom. She was impaled and died with Saturn's cries behind her.
Fortunately, Calypso was reborn as Keiko Yuuki, with a twin sibling named Nanami Yuuki. Keiko was the older twin. Keiko lived in her terrible aunt's house due to her mother and father abandoning her and Nanami, and Keiko continues to live there today. However, she is not happy there and is always finding ways to get out of the jail-like house each day.
During the young years of elementary school, there was a fire in the school she was in. Keiko was sitting in the classroom, and a paper near the oven caught fire. The classroom was burnt, and Keiko barely managed to escape the chaos before jumping out of the building. Her twin survived, but she was scarred by the event. She has a childhood fear of fire, and since then she hasn't gone near an oven. Because of this, one of the kids in her class started calling her names such as "Firebrain". Keiko tried her hardest not to listen, but the nicknames just went on and on. Getting angry, she punched the kid in the face and was kicked out of the school. She has been nomadic, going from place to place until she met Hotaru Tomoe, who was her past mentor and princess, Sailor Saturn. Years later, after getting bullied over and over and over again, she decided that she couldn't take it anymore. She begged her aunt for her to stop school when she was 9, and Auntie agreed, being able to stop packing lunches for Keiko which she couldn't even eat since the bullies at school threw out or ate everyday. Leaving Keiko starved, hungry, and looking as pale as a bone. The turn of events changed when she had her 11th birthday. After having her birthday cake, she saw a glimpse of a silhouette of the girl who saved her of the kidnapping incident. That woman was heading to her old school. Standing up, she asked her aunt to go to that school again. With a dissatisfied frown, Aunt agreed. And then she met Hotaru Tomoe, and became best friends from the past and the present.
(How she became a senshi)
Keiko pretty much found out by her own, maybe because she was watching her best friend. She was spying on Hotaru because Hotaru had to go home early because of her father's laboratory. (This isn't in the Death Buster's arc. She just had to check in.) To her shock, Saturn encountered a monster while walking home. Hotaru transformed to Sailor Saturn, and she saw Keiko in the corner of her eye. Hotaru knew that Keiko was a senshi. A hologram of the moon and the planet Saturn was above Keiko's head even if she couldn't see it. Hotaru then remembered that there was a time when she was 12, she had rescued a little girl from a kidnapping. And then it all sank in, the girl was Keiko. The monsters went after Keiko because they knew what she was...
Saturn yelled at Keiko, to her surprise, to yell the words "Calypso Moon Power, Make-Up!"
Keiko transformed into Sailor Calypso, much to her shock. They fought off the monster together, and Keiko had started the dangerous and exciting role of the senshi life that day. (B) I kid, I kid)
**Keiko awakened as a true senshi in the SuperS/Dream arc.**
As a senshi, she has high power and stamina and is capable of withstanding fatal blows due to Saturn's training. She likes to fight alongside her princess.
Other Noteworthy Facts:
Blood Type: AB
Sun Sign: Libra
Favorite animal: Bunny
Gemstone: Opal
Strongest Subject: History/Social Studies
Weakest Subject: Physics/Science
Senshi Information (delete this section if not applicable)
Senshi Name: 
Guardian Calypso/Sailor Calypso
Realm of Influence(s):
 Balance and Revenge
Henshin/Transformation Phrase: 
Calypso Moon Power, Make-Up!
Senshi Fuku: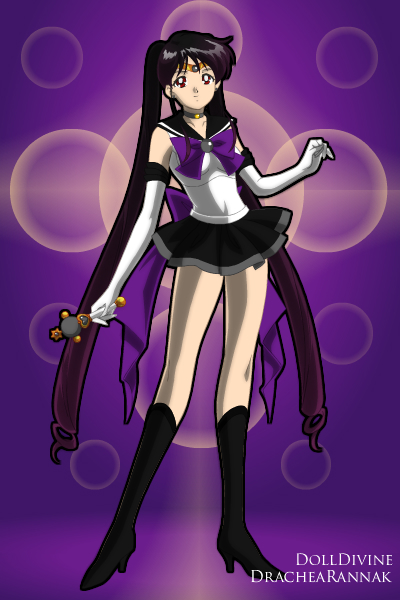 Sailor Calypso's colors are purple, black and silver. Her center bow color is purple, and her gem in the middle is silver. Her long boots are black, and her skirt colors are black and silver on the edge. Her tiara is gold with the gem being black. She wears an aegis from ancient Greek. Calypso owns a belt around her waist with a dagger pouch inside it. She wears two silver arm guards, and her necklace is silver with a moon on it, resembling Kronos, the god of time (and the Greek version of Saturn). Krono's weapon was a moon scythe. When she transforms, her hair also turns into more of a spiky look than her normal two ponytails.
Powers:
First Attack Name: Death Excalibur
First Attack Appearance: Calypso chants the attack, concentrating on the enemy's weak spot. A black, ghostly sword appears.
First Attack Effect/Damage: Used for attack, and has high damage. However, it has recoil.
First Attack Accuracy: Only useful when Calypso's concentration and will is high since that is the energy source.
Second Attack Name: Calypso=Sodom
Second Attack Appearance: An arc of swords appear in a circle with purple energy colors above the user's head and is hurled at the enemy.
Second Attack Effect/Damage: Used for distraction and attack.
Second Attack Accuracy: A person must be 10 yards from Calypso for the attack to be useful.
Third Attack Name: Vengeful Chronos
Third Attack Appearance: Calypso's tiara glows, and she makes an outward hand motion, summoning the arc of Time and the Dead.]
The Chant used to summon the Dead:
"Kronos, the almighty Titan, lend me the power of time
Summon the dead from the Underworld Hades
Bring the black portal to Earth, Vengeful Chronos"
She summons the dead, spirits with full body armor charge from a black hole. The arc of Time is created to summon the black hole-like portal to bring in the dead. The number of the dead depends on Calypso's energy and stamina left. The highest she's been able to summon was about a hundred dead soldiers.
Third Attack Effect/Damage: Summons the dead and slows time temporarily to open the portal.
Third Attack Accuracy: High accuracy and magic, but will make the user collapse afterwards.
Fourth Attack Name: Calypso Moon Boost
Fourth Attack Appearance: A golden light emits around Calypso, and the attack heals Calypso and gives her boosts.
Fourth Attack Effect/Damage: Boosts her speed, strength, and stamina.
Fourth Attack Accuracy: Affects herself only and wears off after a decent amount of time.
Weapons or Magical Items:
Calypso Staff: Used to summon Vengeful Chronos.
Calypso Transformation Rod: A lip rod used to transform into Sailor Calypso. The lip rod's handle is deep purple with opal gems along the side, and the lipstick color is pale pink. The sphere on the top's symbol has the symbol of the satellite and Titaness Calypso. The symbol color is faint silver, and the sphere is black. Mini, golden wings are on the sides of the sphere.
RP Sample
"Calypso!" Saturn screamed, her hand outstretched to the fighting Senshi. Sailor Saturn's midnight black eyes grew wide as she rushed over to Sailor Calypso, her comrade. "Did I do well, my princess?" the already dying soldier wheezed, blood dripping. "You did well," Saturn promised, tears dripping from her face. "But why did you do it? You were so brave..."
"The moon is our home. It is our homeland, and it was under attack. I needed to save it..." Calypso answered softly with tears running down her face as well. Farewell, Saturn, Calypso thought as her vision went black. The last thing she heard was Sailor Saturn's tearful screams, begging her to not leave her there alone...
Keiko woke up in a hurry, her eyes burning and her forehead covered with beads of sweat. This dream had been coming for a week, Keiko thought, getting out of bed and her brain swimming in thoughts. Maybe there's something I need to do about it. This world is corrupted in more ways than one.