Character Name: Minako Aino
Gender: Female
Age: 14
Character Image: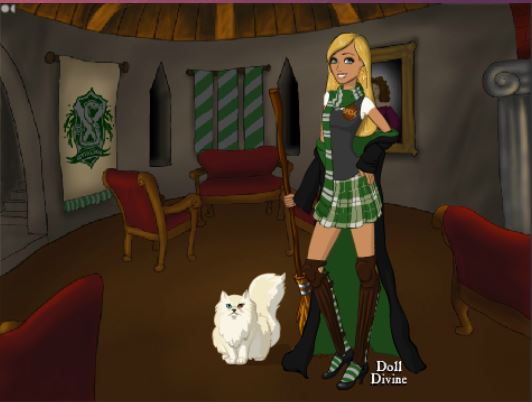 Storyline Specific Information:
Usagi Tsukino and the Lunar Prophecy
: Once upon a time, the Hogwarts School of Witchcraft and Wizardry took a stand against the ultimate evil. A group that consisted of mostly Gryffindor students managed to save the wizarding world from the most dangerous wizard it had ever known. 
But now, years later, a new threat loomed in the horizon. This time, a single Hogwarts house wasn't going to be enough to save the world. This time, it would require all four to stand united.
Unbeknownst to the students, one of the teachers at the school had found a darkness entity slumbering deep underground in a cave near the school. Always been a witch who's attracted to the darker side of magic, Professor Beryl answered the plea to free the evil in exchange for the promise of power. The darkness called itself Metalia, and she was still weak as of now. She needed a power source to be truly awakened...
A new Chosen One legend was born. A prophecy spoke of a girl with a dormant power lying inside her, the only power in the world that was strong enough to eradicate the most dangerous evil ever seen since He-Who-Must-Not-Be-Named. But that power was not awakened yet. It was not even whole yet. The prophecy said that it was divided into seven pieces and scattered across the realm, and whichever side managed to gather them all first would have the balance tipped in their favor. Can the good guys find these seven pieces before the bad guys do, awaken their savior, and win the war?
The race for the seven Rainbow Crystals is on… 
Minako is a young witch that attends Hogwarts in this storyline. She, Rei, Ami, and Makoto discover that the strange student with no house, Usagi Tsukino, may be the girl in the legend. Together, they protect her from evil as they gather the Rainbow Crystals.
Additional Information:
Personality-
Minako is often looked at as a cheerful, energetic girl who likes exploring new things. She likes sports, especially quidditch, reading tabloid magazines (both magical and muggle), singing, and occasionally pulling pranks on others. But there's another side to Minako Aino. Despite having the kind of attitude that draws people to listen to her, she often feels alone trapped by her life. She tends to keep that part of herself well hidden, and not many people know about it. She may like joking around and skipping classes, but she's also very strong in a serious situation, and often takes charge. She's also a quick thinker in a crisis. Minako has recently gotten into dueling with wands, and has joined the club for it at school.
History-
Minako is the daughter of a Japanese halfblood wizard and a British Pureblood witch, and as a result of their bloodlines and her mother's Quidditch career, her family is quite well-off. But they were both rather busy, and Minako often ended up lonely when she was left in the house with a hired servant to watch over her. Minako craved attention, and as soon as her Hogwarts letter came in the mail, she saw her chance to get it. As a gift for her first school year, her father got her a professional Quidditch broom (though she couldn't take it with her until second year). 
Minako was sorted into the Slytherin house, as she did have an ambitious personality and large, almost extravagant goals. Despite the bad reputation of the students, her strong attitude and leadership abilities made her a respected person in her house, and she soon became acquainted with all sorts of children with influential families. Minako also joined the Slytherin Quidditch team as soon as she could, and became a Chaser.
She became particularly good friends with a group of four boys, Kunzite, Jadeite, Nephrite, and Zoisite, and they often caused trouble around the castle together. After being caught breaking one too many rules by the Head of Slytherin House Professor Artemis, Minako is taken under his wing in an attempt to steer her in a better direction. Artemis becomes a mentor to her, and Minako learns quickly from the Defense Against the Dark Arts teacher, excelling in his classes.
He also tells her that it would benefit her to branch out when it comes to friendships, and she decides to humor him and starts talking with people outside her House. Over the next year, Minako gained a few new perspectives as she mingled with Hufflepuffs, Ravenclaws, and Slytherin's fated rivals, the Griffindors. This is what brings her into contact with Ami, Rei, and Makoto.  
RP Sample:
Here:
Hogwarts Student Information

House: Slytherin
Year: 4th
Pet: A bronze colored Aesculapian snake named Libra.
Magical Items:


Wand- Ash, 11 inches, Phoenix feather core, slightly bendable.

Broomstick- Starsweeper XXI (Imported from America)

Quaffle ball

Broom Cleaning Kit

Various prank items from the Weasleys' Wizard Wheezes Shop.