Advanced Character Profile
Character Name:
Zena Watanabe
Age and Date of Birth:
20, October 4
Appearance:
 Zena is average height, standing at 5'8''. She has jet black hair that falls just at the middle of her back. Zena has blood red eyes. She is of average build, but works out to keep fit. Zena enjoys wearing tighter clothing. She likes to show off her curves, but still preserves some decency. She loves to wear black pants, boots, and t-shirts. Occasionally, she will wear a skirt or dress, but she keeps it casual with her clothes. Zena also loves her make-up and will not leave the house unless she is wearing her make-up.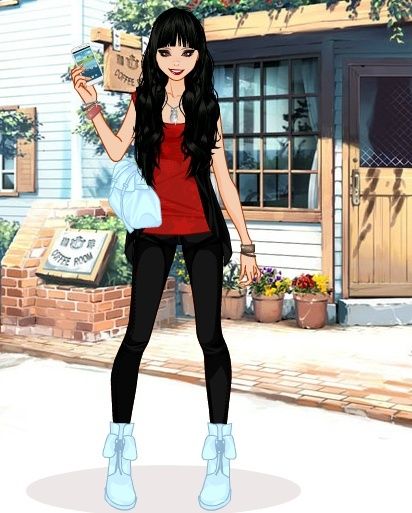 Personality:
Zena is a unique girl. She has a wall up from being hurt by so many people, but deep down she wants to be loved and accepted. She is dedicated to her school and her teammates. Zena is passionate about things she cares about, but also has a temper. Zena has a carefree spirit when she is alone and loves to be outdoors.  Zena is someone who will try something new at least once, if it means she might make a friend out of it. 
Zena also has persistence; this is because she has been on a mission for almost three years to find out who killed her parents and sent her to the home she lives in now. Zena has to be cautious with many tasks she is involved in. Zena has a big heart and is willing to love someone if they will just let her in.

Zena is competitive in her athletics, she is determined to win. When she doesn't instead of getting mad at her teammates she works with them to make her team better. In her academics, Zena is competitive; however, she is only really competing with herself. She feels pressure to be her best since her parents are paying for her education. She doesn't want to do bad because she is afraid her parents will cut her off and kick her out. While she doesn't like her parents, they do provide for her education and give her a place to live.

Zena is also very insecure. She keeps to herself because she has been hurt by so many in her past. She does have a small number of friends, but even those friends she is afraid to open up to because she is afraid they will leave her alone like everyone else has in her past. Zena has spent her entire life trying to find at least one person who will accept her and invite her into their world. All Zena wants in life is to feel like she is loved and like she belongs.
Any Unique Abilities/Skills:
Zena is captain of her field hockey team at her school. She is skilled with computers and investigative services. Zena is also stealthy on and off the field. Zena is talented at baking and art. Zena is a talented writer, but she has never shown her works to anyone because she is afraid they will make fun of her and her work. Zena has a special ability to make animals feel calm when they are around her. 
History:
Zena was a happy normal girl with a mother and father until her parents were killed when she was 10 years old. Now Zena lives with Tyler and Pamela, her adoptive parents, or so she thinks. Tyler and Pamela with the help of their friends had Zena's parents killed and adopted her so they could get a portion of the money Zena's parents left behind for her. Zena never knew her parents were rich, just that they loved her and she loved them. She was shuffled from home to home for two years before she was adopted by Tyler and Pamela. They appear nice to outsiders, but they do not love Zena.

Growing up, Zena was very close with her parents. They did everything together, from traveling the world to having play tea parties or movie nights. Zena's parents were very good to her and did whatever they could to make their daughter feel happy. The day Zena's parents were killed was just like any other day. She went to school and afterschool she went to the after school program, only this day she was picked up early. She was informed that both of her parents had been killed. Zena was only 10 years old, so she broke down. She had lost everything important to her and she had no other family she could be sent with.

Zena was shuffled from home to home for a few years. Most homes were nightmarish. She was placed in homes with multiple kids. She was hopeful she could make friends or form a bond with her newly acquired siblings, but the family was never interested in her, just the money they received from taking care of her. Zena began to immerse herself in books. This allowed her imagination to run wild. She wished she could be many characters from all the stories she read, because their lives were much happier than her own. 

Zena was moved when she was 14 to live with Tyler and Pamela who adopted her several years later. When Zena moved in with them, she felt as if she had been rescued and in the beginning it was nice. They seemed truly interested in her and wanting to make her happy, but as time went by Zena realized they were just like everyone else. She began to grow suspicious when she heard them talking about a certain day and how Zena was stupid. They talked secretly about how she would never know. Zena worked with one of her close friends who happened to be skilled at hacking, but what he discovered was much worse than she could have ever imagined. She discovered they were the ones who murdered her parents.

Zena attends the local university where she is studying to become a psychologist. While attending college she has made a small group of friends and has started dating a friend, hoping he won't break her heart like so many others had. Zena tends to throw herself blindly into situations because she is desperate to fit in and be accepted, she doesn't think about the end result, but rather that she will hopefully have some friends. 
Zena has secrets hidden from her, such as she has a little sister who was living with other relatives as a result of an affair her mother had with a man in another country, but her sister Lenae is in the same city as Zena and the two will soon cross paths and become very close with each other. Also Zena and her love interest are also unaware that his parents were involved with the murder of Zena's parents. A secret that once it is revealed could destroy Zena and her love interest.

Now Zena has to act like she doesn't know and is trying to find a way out of her living situation. She still has a long way to go with school. She wants to be a child psychologist. She wants to specifically work with kids who are in the foster system or have been moved from family to family due to losing one or both their parents. She wants to be able to provide help for these children, the help that she wished she had received growing up.

Zena is now looking for work and considering transferring to another university once she has enough money to escape her adopted parents. Zena will take a leap of faith and rely on her friends to help get her out of her horrible life situation. She will do something she hasn't done in many years. Zena will trust her friends to help her overcome her life at home and break free to be her own independent woman.

Zena is a Libra. Her favorite color is red. Her favorite gem is a ruby. She enjoys many foods, but dislikes onions and most fish. She loves to try new cooking experiments as well as art projects. Zena loves animals and spends weekends volunteering at an animal shelter. Her favorite subjects are psychology and English. Her least favorite subjects are Math and Science. Zena loves the rain. When it is raining, Zena will sit in her room by the window. She likes to listen to the rain while she reads books. Zena also loves candles and roasting marshmallows by the fire.
Storyline Specific Information:
Optional! To be filled in during storylines, not before! This section is for you to detail information about your character that is specific to a certain storyline(s). Fill out this section with each separate storyline, so you don't have to send multiple character profile applications for the same character.
 RP Sample: The RP Sample should involve the character you are applying for and the sample must be at least 100 words. We've provided some themes to get you started.
Zena was reading a book, listening to the rain when she gazed out the window and remembered a moment with her mother. It had been a girls weekend since her dad was away on a business trip. They were in their pajamas, under a blanket and pillow fort. Popcorn bowls were laid out in front of them and they were watching the latest Disney movie that is until the power went out and a storm poured down outside.
Zena remembered her mom being calm and holding her through the storm until the pitter patter of rain gently beat against the window. The power came back on and after comforting words, Zena and her mom resumed watching the movie.
Zena came back to reality, she clasped her hands around her torso as she looked out the window, wishing she could even have one happy memory with Pamela, like she did with her own mother, but this was just a roof over her head, not a home with a loving family.