Advanced Character Profile
Character Name:
Chibiusa Tsukino/Princess Usagi Small Lady Serenity/Sailor Chibimoon
Gender:
female
Age and Date of Birth:
June 30, 19XX; 903yo or so, but she's physically/mentally about 14
Used Canons:
manga
Appearance: 
With an innocent, feminine sense of style, Chibiusa finishes her sweet looks with a huge amount of baby pink hair, pulled up into two rabbit ear shaped buns that allow for pigtails like huge puffs of cotton candy. the "pink rabbit" look is completed with her red eyes. She's usually seen in skirts and dresses, typically in whites and reds in a feminine style that edges more towards cute, with hints of sophistication. Her middle school uniform is very minimalist, with no front bow at all. It's mostly white, with red and blue piping. 
Personality:
It's hard to talk about Chibiusa without mentioning Usagi. Chibiusa is often compared to her, being that they're mother and child. It's not without good reason; they are very similar in many ways. both are extroverted, excitable, sometimes painfully optimistic and naive, child-like and childish, incredibly brave, they believe in love and life and friendship, they love everyone and are loved by everybody for all these traits, and more.
While all of that can certainly be said about Chibiusa, the truth is, she has an enormous inferiority complex regarding Usagi. Or, to be more specific, Usagi as she will be as Chibiusa's mother - Neo Queen Serenity. The queen who rules the world, the most powerful person in the universe, the most beautiful and graceful and beloved and feared. Chibiusa loves her mother as much as she is afraid of her, as much as she is in awe of her, for Chibiusa's mother is a living legend; practically a goddess. How can anyone be expected to live up to her perfection? Unfortunately, Chibiusa is.
As much as Chibiusa wants to be like her mother, she is her own person. Unlike Usagi, Chibiusa is pretty intelligent and precocious, independent and often almost fearless. Her smarts occasionally results in bossiness, but for the most part she puts it to good use like schoolwork and being class representative. She's popular and has many friends in school. These changes in her life mean so much to her, since she spent such a dizzying amount of time isolated by all around her, if not outright bullied. Though she shares this trait with Usagi, her history could be an extra motivation for Chibiusa's kindness and pure-hearted nature, especially towards the friendless or misunderstood.
Though unlike Usagi, Chibiusa has a much deeper capacity for anger, perhaps even hatred. Though we've seen her natural personality of a cheerful, happy girl who loves everyone, she was warped to act against her nature due to so many hundreds of years of isolation from her peers and bullying. She was quieter, more withdrawn, more emotionally guarded and cautious. Thankfully, after her time as Black Lady and finding out the truth of how loved she is, Chibiusa started emotionally repairing herself with the love and support of her parents and their friends as they were in the twentieth century, when they were all young and more approachable. Though she bickered with Usagi frequently, Chibiusa was very close with all the young Senshi, especially her parents.
It should be mentioned that Chibiusa has a pretty major weakness: an inferiority complex. As much as she adores and admires her mother as both Usagi and Neo Queen Serenity, Chibiusa has a very difficult time feeling that she'll ever be able to measure up in comparison, whether it's to be just as loved, as needed, or as powerful. Her dream is to be a lady as beautiful and graceful as her mother, but she's torn between wanting to hurry and grow up to get to that point, or to slow down and take her time because she doesn't feel she deserves to have reached that point. It's something she'll have to struggle with and learn to overcome.
By the end of the manga series, Chibiusa has started coming into her own. She's starting to believe in herself and her worth as an individual rather than just the daughter of the living legend Sailor Moon. She's also started becoming more centered, strong, and powerful. Having finally evolved her own Silver Crystal and discovering that she has her own Sailor Team, Chibiusa has begun to display the wisdom and strength she needs to be the true Senshi and lady she's always dreamed of being.
Any Unique Abilities/Skills:
Chibiusa at this point in time has her own Silver Crystal, which evolved into a new crystal of her own, called the Pink Moon Crystal. she's used it to heal injuries on others in the past, and it's intrinsically linked with her soul; as such, it's the source of her power.
History: 
Princess Usagi Small Lady Serenity was born to King Endymion and Neo-Queen Serenity, the future selves of Tuxedo Mask and Sailor Moon respectively, sometime in the early 21st Century. She was beautiful and healthy with a shock of cotton candy pink hair, and had a life of privilege and comfort ahead of her.
Supposedly.
Unfortunately, due to the strange metaphysical powers and rules of the Sailor Moon universe that are very difficult to make sense of, over nine hundred years go by and the little princess didn't grow mentally or physically beyond the age of 5 in all that time. No one could determine why, or how. She just didn't change.
As the centuries passed, the whispers began. Small Lady would hear people gossiping that she is powerless, useless...probably not even really the child of the royal couple. How could she be? She looks nothing like them, doesn't grow, no power... Useless. Fake. It even escalated to outright bullying. On top of that, her relationship with the Sailor Senshi, her mother's best friends and protectors, seems distant at best...there's a strained feeling between her and her parents as well, despite how much they all love each other. Her only friend is Sailor Pluto, the Senshi whose sole duty is to stand alone at the Gates of Time for all eternity and guard it from misuse.
Someday, somehow, Small Lady reaches her limit. She can't take it anymore, the possibility that she's not the real daughter of the Queen, the person she idolizes and is most in awe and fear of, is too much to bear. It's a not so special day that she slips into the special vault that holds her mother's Silver Crystal, the physical source of limitless energy and power that grants longevity and health to all the citizens of the Earth, and Sailor Moon's former source and focus of power...and steals it.
Almost instantly, the utopian Earth kingdom of the Silver Millennium is attacked. The Black Moon, a rebel group who hates the Silver Millennium and its "abominations against God", strikes and destroys the city of Crystal Tokyo. Many innocent citizens are injured or killed, and the Sailor Senshi and King Endymion are all comatose nearly immediately after a blast directly hits the Crystal Palace. The Queen, meanwhile, in encased in a tomb of crystal, protecting her. Only Small Lady is left standing. 
Terrified and knowing her guilt, Small Lady has nowhere to go except to her best and only friend, Pluto. That's when it hits her - Pluto has Time Keys. It's crazy, but...what if she stole one of those, and went to the past? When her parents were young, and invincible...! The invincible Sailor Moon, of whom her father the king told her endless stories. If anyone could fix this, could save the world, the future - it's Sailor Moon. 
It's a wild leap only a child could make, but what other option can she see? She has no power herself. Extending her guilt and misdeeds, Small Lady follows her plan - deceiving Pluto and stealing one of her Time Keys, she falls wildly into the abyss of time and lands on her parents as they're about to kiss, young and relatively newly in love.
Small Lady tries, and fails, to bluff her way into demanding the Silver Crystal from Usagi, waving a fake gun at her that turns out to be her little robot friend, Luna P. Insisting that her name is also Usagi, she's quickly referred to as "Chibiusa" to distinguish her from the Usagi that Mamoru and the other Senshi are familiar with. She turns Luna P into an umbrella and somehow hypnotizes Usagi's family into believing that she is just another daughter in the family.
She can only watch sadly as Usagi goes through the torment of her friends being captured by the Black Moon one by one, not knowing what she can say, or how much. All the while, she's trying to maintain emotional distance and failing. When Mercury, Mars, and Jupiter have all been taken, Chibiusa finally breaks her silence and reveals herself to be from the future. 
So Chibiusa brings Sailor Moon, Tuxedo Mask, Sailor Venus, Luna, and Artemis, all to the Gates of Time. After a brief misunderstanding, they're introduced to Pluto. Chibiusa apologizes for her deception and Pluto lets them through. When they reach the Palace, the King somehow has an astral projection walking around outside his comatose physical body, who explains everything about the future and what's happened to the planet, the Black Moon, how he is their future and Chibiusa is their daughter, etc etc. He even reveals Chibiusa's true age, and admits the best theory they have about her lack of growth is that she needs to "awaken" her power. How is anyone's guess.
During that time, Chibiusa wanders off. She gets lost in the Fourth Dimension somehow (?!), despairing about her uselessness and role in the state of affairs, but realizes she doesn't have a Key to lead her back when she decides to. Wiseman, the true mastermind behind the Black Moon, finds her and lures her away, using her loneliness, inferiority complex, grief and anger as weapons against her. He turns her into Black Lady. 
She strides brazenly into the Crystal Palace, taunting the sleeping form of her mother and the spirit projection of her father with her new "awakening".  Once ejected from the Palace by the sleeping NQS, Black Lady loses any pretense and summons the true form of Wiseman, flaunting her power. It's not until she's momentarily distracted that Prince Demande grabs the Crystal of the future that she holds and the Crystal of the past from Sailor Moon's chest, and threatens to press them together, that Sailor Pluto arrives to intervene against her Senshi directives. Pluto stops time at the cost of her life in order to allow Usagi to reclaim both Crystals into the hands of safety. 
Upon Pluto's death, Chibiusa's grief overwhelms and overcomes Wiseman's spell and breaks it, one of her tears becoming her own Silver Crystal. Chibiusa transforms into Sailor Chibimoon for the very first time.
There's little time to mourn Pluto, however. Wiseman, as the evil planet Nemesis, is still a threat that must be dealt with. So Chibimoon is transported to where Sailor Moon and Tuxedo Mask are uniting their power to fight, far out in space, and she is able to help Sailor Moon defeat Nemesis.
Chibiusa returns to the 20th Century to continue "training" to become a proper Sailor Senshi, fighting alongside her parents and their friends against many enemies and trials.
Other Noteworthy Facts:
it's ironic to say that Chibiusa hates carrots...though she's obsessed with flan, and definitely has a sweet tooth. Chibiusa is noted to have a talent for drawing at least once in the manga. 
Senshi Information 
Senshi Name:
Eternal Sailor Chibimoon
Realm of Influence(s):
love, hope, light, dreams
Henshin/Transformation Phrase:
Moon Prism Power, MAKE UP!
Crisis, MAKE UP!
Moon Crisis, MAKE UP!
Pink Moon Crystal Power, MAKE UP!
Senshi Fuku: 
It should come as no surprise that Chibiusa's signature color is pink, accented with reds and whites. Unlike Eternal Sailor Moon with just her crescent moon mark, Chibiusa has a tiara like the other senshi with a pink star shaped gem in the middle. Her Pink Moon Crystal likewise changes into the shape of a star gem in the middle of her red breast bow. Her collar, choker, shoulder bubbles, sleeve bubbles, skirts, back bow and boot accents are all varying shades of pink. Only her front bow and odango shields are red. Piping on her collar is white, as well as her actual sleeves, hair feathers, base suit, and boots.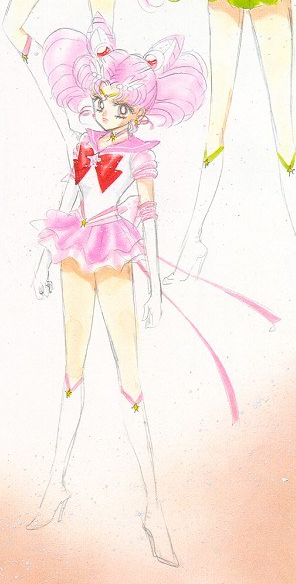 Powers:
Pink Sugar Heart Attack
Rainbow Double Moon Heartache
Twinkle Yell
Moon Gorgeous Meditation
Double Starlight Honeymoon Therapy Kiss
Pink Moon Crystal (simply used as energy attacks)
Pink Lady's Freezing Kiss (whether this is just her attack powered up by the Quartet or is only able to be used in conjunction with the Quartet is unclear, as it's only used once)
Weapons or Magical Items:
Luna P
Prism Heart Compact
Pink Sugar Rod
Crystal Carillon
Moon Kaleidoscope
by the end of the manga, Chibimoon has no items that she uses, aside from her own Crystal for transforming and fighting, and a Space Time Key to return to the past one last time (this time, the key is given freely

).
Guardian:
Diana 
RP Sample:
What now?
It's been weeks since she returned to the 30th Century, most likely for the last time. Her Quartet are settling into the Palace fairly well, and Small Lady has been working to get to know them and befriend them. Her lessons began again in earnest, meeting with various diplomats and tutors, and generally being kept so busy that she barely has time to think.
When she does, however, that question keeps coming back up...
What now?
Do they all just sit and wait, pretending like everything is perfect until the next enemy shows? That's more or less how it happened in the past, too, but Small Lady can't help but feel that the peace in between is just...
Not real.
Maybe that's not the best phrase to use, but it certainly doesn't...feel right. Unease sits like a weight in the pit of her stomach, and as she watches everyone around her wearing smiles, she wonders how many are thinking the same. Or are they not worried at all? 
Maybe she's the only one who feels this way. After all...their lives are now her responsibility. Her mother, young or wise, will not be by her side to empower her the next time she faces down a threat to everything they know, everything they love.
Maybe they smile because they believe she can take care of them as well as her mother. 
Maybe they wouldn't be smiling if they knew how little she believes that herself.