Character Name:
Crown Princess Thalassa Maera
Gender:
Female
Age and Date of Birth:
physically 23, chronologically 485 years old. birthday is January 21st
Used Canons:
Manga
Appearance:
About 6' 4 inches, slender build and rather willowy with a delicate heart shaped face. Instead of human ears, she has medium sized fins. She has a permanent blue tinted skin tone due to the fact she's lived in very cold temperatures all her life. Her eyes are a bright shiny silver color, and she has a second transparent eyelid under her regular eyelids. She has sea foam green long flowing hair that usually trails on the ground behind her, and short puffy bangs that frame her forehead but are slightly messy most of the time. She wears her hair loose, with part of it in a braid that crosses over her forehead and two thin braids that fall from the ends of her forehead braid. When she is in siren form, she has a bright silvery-teal tail with flowing flukes.
Typically wears her senshi uniform more often than not, but for formal occasions or extremely relaxed situations, she will detransform, in which case she tends to wear flowing sheer fabrics, sewn with bright glass beads or pearls. She tends to enjoy particularly shiny jewelry, as long as it is gold colored. She also very much enjoys wearing various types of seashells. She doesn't really like having her feet covered in her human legs, so typically will mold her feet with scales to look like shoes.
She typically will only wear dresses, no pants or skirts and tops, and doesn't mind if they have sleeves/ straps or not. She will wear a variety of styles, but tends to like dresses with cowl necks and empire waists. She also especially likes wearing ribbons where she can, be it in her hair, tied around her arms, wrists, neck or waist. She usually enjoys painting her fingernails which are kept at a slightly long length, after she has discovered fingernail polish, and prefers cool or oceanic colors.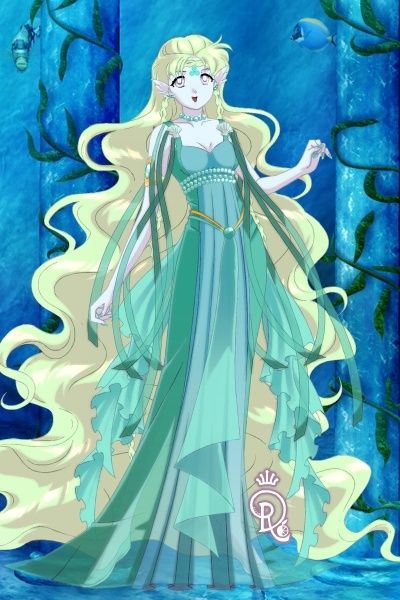 Personality:
Thalassa is a princess through and through. She is regal and possesses incredible grace, whether she has a tail or legs. She is well skilled in diplomacy and diffusing hot situations with her cool temper. When she puts her foot down, she is firm and indomitable. However as a person, while she's still cool and calm, she has her playful and rather teasing moments, similar to a dolphin, she'll play little jokes just to get a laugh and show good will towards others.
She is extremely baffled by the folk who don't seem to need water surrounding them to be comfortable, and is usually longing for the water when she's on land, though she isn't exactly in pain on dry surfaces. She does enjoy making friends with many people though, and can spend hours talking about songs and singing, anything musical in nature, so she tends to deviate towards people who relate to music in any shape or form. She is not especially easy to upset, and usually will continue smiling when confronted with abrasiveness or animosity, unless they begin insulting her ability as a ruler and senshi. Then she will be quick to defend herself and prove that person wrong
Her dream is to keep her powers even when she becomes Queen of her planet, and to find a man who can match her in singing talent who loves the water as much as she does. She's worked hard to earn her eternal senshi form, and has overcome many personal pains to push past her limits, as she is a determined sort of person. She enjoys spending her free time exploring the darker depths of any body of water, seeing the different things that live in salt and fresh water, and seeing things she hasn't seen before. As long as she has cooler temperatures, she will be comfortable even if it's on land. Without her amulet, she would only be able to survive in temperatures as high as 73 degrees F, which is considerably warm for her. The lowest temperatures she can survive is -60 degrees F. -38 degrees F is when she actually will feel cold. She is typically immersed in waters that average around 20-30 degrees F.
She dislikes and distrusts heat, and tends to have difficulty at first with people who associate with fire. She also really cringes whenever she sees people fishing with hooks, much preferring if they used the gentler method of using nets or even spear fishing. She considers hooks to be a torture device. Sometimes she can come across as a cold personality, but this is only because she forgets she is not on her planet where they have much different customs and ways of showing emotions.
Any Unique Abilities/Skills:
Ability to withstand extreme cold temperatures naturally, able to switch from human legs to a mermaid tail, mind control with singing voice but effect depends on strength of mind of the subject, ability to breath saltwater or freshwater, excellent singing voice. Also has the ability to see in pitch darkness.
Due to being an Amatheian, she can also withstand heavy pressure, at least double what the human capacity is. Part of this is due to their bones which are significantly stronger than a humans, and their muscle structure which is tougher than a humans. Amatheian's have also have an evolutionary trait that has some magical influence in that while their hair remains of a normal texture, it is very difficult for it to tangle or knot though it can still get caught on things. As a result, most Amatheian males and females tend to have longer hair and consider it fashionable.
They also have blood that is a light silver blue color when inside of the veins, but when it comes in contact with oxygen, it turns into a darker shade of blue.
History:
Thalassa is the eldest daughter of her parents, the King and Queen of Amatheia, a planet in the Aquarii system. She has younger fraternal siblings, her brother and sister. She had spent her life in the waters, both saltwater and freshwater, that dominated her planet, though around the age of 16 she began learning how to breath air and walk on the scarce land that protruded above the bodies of water on her planet.
When she was 25, she was of age to take the test to see if she was worthy of being declared the Crown Princess. She was given her planets most treasured possession, the Amatheia Crystal, which had the form of a spiral cone seashell. It had belonged to her mother, and had been handed down the maternal side of the royal family. With it, she was to attempt to transform into a senshi. When she called out the transformation phrase that had been used for generations, it didn't work, and she was unable to transform.
On the brink of being deemed unworthy, she pleaded with the crystal to grant her its powers and let her transform, praying to it. As she prayed, and as her mother reached out to take the crystal back, a new phrase came to mind and Thalassa called it out, transforming into Sailor Amatheia. But while her predecessors had worn a short fuku bedecked in pearls and shells, hers was more like a long dress and was accented with ribbons more so than pearls. Her parents and the advisers were confused as to why this happened, but most accepted the turn of events and Thalassa was made Crown Princess of her planet.
She was relieved to have become the senshi and Crown Princess of her planet, but there were some advisers who thought she had used trickery or dark magic in order to use to crystal. They began prompting the people to rebel, or summoned horrible creatures of legend, forcing Thalassa to act as Sailor Amatheia. She was able to quell the issues for a period of time, until the advisers decided to give her the ultimate test of her powers. They began summoning fragments of Chaos to face against the princess, but the advisers were unable to control it and became possessed. Thalassa was at first unable to fight the people she had grown up with, and considered extended family. She tried to plead with them to resist the evil possessing them.
But when they began killing the people and creatures of her planet, Thalassa could not forgive them. She summoned every ounce of belief and self confidence in herself, and struck down the advisers and destroying the Chaos inside them. Some of the advisers had died, but the few that lived were severely damaged, either unable to move or see anymore. They were swiftly locked away. In the process of this, Thalassa was able to achieve the super form of her senshi powers.
Thalassa reached the eternal form of her senshi powers after she left her planet to explore the other planets of her system and those nearby. Seeing all the different ways of life and the new people who belittled her made her question her worth, as a person and a senshi. She was challenged by the senshi of another planet in her system, who declared she was a disgrace to warriors known as senshi, and the senshi tried to take the Amatheia Crystal. But after what she had gone through the keep the crystal, knowing she possessed something her ancestors didn't that the crystal could sense inside of her, she refused to let the crystal go.
She prayed to it once more, asking it to show her the power hidden inside her that made her worthy of being a senshi. With her prayers, she transformed into Eternal Sailor Amatheia, and proved to the challenging senshi just how much she deserved to be a senshi. After this, she was accepted and respected throughout her system as a princess and a senshi, and she gained the confidence to travel further and further outside her system.
Her Family:
The Previous Sailor Amatheia:
Other Noteworthy Facts:
Favorite Gem- Aquamarine
Favorite Flower- Water Lily
Favorite Food- Sushi, Chilled Soups
Least Favorite Food- Anything spicy
Habit- Collecting different types of ribbons she likes from wherever she is.
Favorite Color- Ice blue, pale teal
Storyline Specific Information:
Andromeda Spire- Amatheia had been send to Andromeda by Sailor Jupiter along with Sailor Callisto and Sailor Sedna to defeat the seed of Chaos there. They soon met up with Enyalius, Achelois, Europa, Nocturnus, Panacea and Varuna. Once they descended on the planet, they found the castle of Andromeda being attacked by an angry mob, and were soon joined by Andromeda. After a brief bit of chaos and nearly being turned on by the mob, an old Crone appeared. She gifted the senshi with various gifts, before advising them they had only so long to defeat Chaos before it would be too late. With this warning, the senshi left to find their target, a Siren and the Chaos Seed.
They were able to reach the tower with ease, but were beset by eels before they could fully figure out how to get inside. Amatheia acted quickly, using her siren song to hold them in place then to have them show the way into the tower. However when she follows them underwater, she is knocked unconscious. By the time she is revived, a way has been found into the tower. She joins the other senshi inside, and they are attacked by various fish creatures. An unfortunate accident and stalactites falling renders Amatheia unconscious once again, requiring another revival.
Now the group has found a way nearly to the top most level of the tower. At Enyalius' request, Amatheia uses her song to draw out the enemies inside while the rest of the group go in to find a way to break through to the very top. After realizing she is unable to handle the enemies on her own and wishing to join the group in destroying Chaos, she rejoins the group while the enemies are blocked outside. Once there however, they are confronted with the Siren, protecting the Chaos seed like a mother. Amatheia attempts to destroy the Chaos seed with some of the other senshi, while pleading for a chance to save the Siren's life.
However after attempted measures to prevent the Siren from getting the seed, Amatheia touches the Chaos and nearly unleashes her Siren's Scream before being knocked unconscious by Andromeda. After Chaos and the Siren have been defeated, the Crone appears once again and revives Amatheia and heals the other senshi. It is soon revealed that Leviathan is under threat and falls under the same limited time as Andromeda. Amatheia volunteers to go to Leviathan to dispatch Chaos there.
Between The Stars- Having left Andromeda to get to Leviathan, Amatheia travels with the other senshi who have decided to go rather than remaining on Andromeda. She converses with them, learning a bit more about her fellow senshi and more of other cultures while they learn a bit more about her. As they near Leviathan, they are joined by Sailor Nix whom is welcomed into the group after being informed on what to expect.
Leviathan Core- Amatheia lands on the small rock core at the center of the gas giant planet Leviathan with the other senshi. They are greeted by the native people, an earthquake and Shadow who has been helping on the planet. Amatheia immediately is able to notice that unlike most other land dwelling humanoid species, he is able to move and breath easily in the water atmosphere. Shortly after his appearance, Leviathan makes her, responding to the senshi with mild hostility despite needing help. She claims none of them would be of any use in the water if they are more physical rather than magical. Amatheia and the others convince Leviathan they can help and they want to save her planet.
Once she has accepted their help, she gives the land dwelling senshi her Blessing, so they can move naturally in the water, with Ribbon gaining gills as well like Shadow so she does not require a suit to remain underwater. After this has all been accomplished, the Crone appears to give the senshi special items and inform them where they need to go, marking it on a map. Amatheia tries to question her, to find out if there are creatures they can save from Chaos on this mission, but the Crone only gives a cryptic reply that might double as an evasion.
After the Crone's disappearance and another earthquake, the group moves out with Leviathan leading the way. After a brief distraction from an enemy that is swiftly defeated, they arrive at the mountainous underside of the core of Leviathan. They begin making their way in, only to be stopped by a dragon. Amatheia at first believes Enoch is behind the dragon, but is unable to confirm it. The others discuss with the dragon, eventually learning the race has misguidedly aligned themselves with Chaos.
In order to prevent retaliation resulting in harm to the dragons family, Amatheia and Nix freeze the dragon to make it seem he has been defeated. Once past the dragon, they find a member of the Leviathan Guard who travels with them. They are attacked by a large Vampire Squid, a Giant Eel and another Vampire Squid. Amatheia is only able to assist in defeating the second Vampire Squid, though she accidentally hits and wounds Shadow in the process.
After the second Vampire Squid has been defeated, another earthquake strikes the small pass. As apology for harming him, Amatheia attempts to swim Shadow to the safety of the northern passage, but they are caught by a rock avalanche and rendered unconscious, buried under a large heap of rocks and boulders. She remains unconscious and buried while the others defeat the Chaos Seed, its guardian and the person holding the dragons families hostage for their cooperation.
She is revived by the Crone in time to witness Enyalius' corruption as the Chaos Seed comes to fruition on her planet, and Amatheia is horrified by this development, and the Crone's statement that she must be killed. Amatheia refuses to go to Enyalius to kill the corrupted senshi, instead opting to accept Guardian Leviathan's offer to rest on Leviathan before she faces Chaos further.
Senshi Information
Senshi Name:
Eternal Sailor Amatheia
Realm of Influence(s):
Ice, Water, Song
Henshin/Transformation Phrase:
Tides of Amatheia, Make Up!
Senshi Fuku:
On her head, she wears a beaded circlet that goes over the top and around the sides of her head, with a dangling bead and tear drop shaped bead. It is made of pale teal and dark teal beads. She wears 3 teal earrings on her ear fins and a teal beaded choker with a dark teal seashell in the front and a teal ribbon bow in back with long trailing ties. She wears the standard senshi collar in dark teal with 3 teal stripes on it. She has a strapless dark teal fuku which is open in the front by has teal crisscrossing ties in the front that keep it in place, with a strand of teal pearls crossing under her bust.
For her brooch, she has pale blue wings and her Amatheia Crystal in a star shape when transformed. She also wears teal bikini bottoms underneath her fuku. Dark teal fabric continues from her fuku in the back, creating a slightly sheer train with a rippled wavy front, this is open and shows her legs. She has elbow length dark teal gloves that end in a V shape on the tops of her hands, while the end of her gloves are tied with long trailing teal ribbons. More teal ribbons tie around her knees to her ankles, or mid tail to her flukes, while transparent scales form flat shoes with curling ends when she has feet.
Image drawn by Galia-and-Kitty
Image drawn by Fireflea-San
Image drawn by Amethyst Sadachbia
Powers:
Arctic Tide Serenade- An attack where Amatheia begins singing softly to her brooch, which begins to glow and creates a tide of icy water behind Amatheia which flows towards the opponents, usually washing over the opponent gently. The cold waves produce a lullaby of sorts with its splashing, chilling and lulling the opponent into a stupor, which if prolonged can lead to fatal hypothermia.
Glacial Sanctuary- A defensive move where Amatheia sweeps her hands upwards, forming a dome of water that freezes into hard ice and the size can change depending on how much water she summons. She can use it to protect herself and others from attacks, or can use it to give herself a cold comfortable place to retreat from others, or create a shell of ice to immobilize an opponent. Can quickly freeze people unable to tolerate the cold temperatures.
Siren's Scream- An attack only to be used when Amatheia is consumed by extremely negative emotions. She clutches her crystal and begins to scream, which reverberates from her crystal. At very close range, it can cause deafness and break structures or objects. At a more relative distance, it causes a very painful ringing in the ears and a painful pressure on the chest, sensations similar to diving to extreme depths or drowning, to drive back the source of negativity.
Shard Mist Shower- An attack where Amatheia begins singing, her hands gathering water from nearby sources and summoning it if need be to form numerous droplets in the air. She throws them at the enemy, and as they fly through the air, they freeze into needle sharp icicles that embed themselves in the enemy. She can control the size of the icicles depending on how much water she uses, from tiny shards of ice up to large deadly icicles.
Weapons or Magical Items:
Amatheia Crystal- When Thalassa is not transformed, it takes the shape of a small conch shell wrapped with some ribbons. But when she transforms, it takes the shape of a star, like most eternal senshi.
Amulet of Orithyia- Imbued with magic discovered by the Queen of the same name, which allows the people of Amatheia to survive in relative comfort outside of their cold ocean and frozen lands. Thalassa's takes the form of an armlet she wears on her upper right arm. Is a gold band with a pale aqua gem, which is what holds the magic. If placed on a person who does not typically live in cold habitats, it will cause hypothermia within about five minutes.
Guardian:
Thetis, a mammalian creature the size of a dolphin, but with colorful flimsy flowing fins like Earth's Siamese Fighting Fish. She is silvery- ice blue mainly in color with extremely dark green eyes and accents of dark blue. She is native to Amatheia, and can transform at will into a humanoid creature, with long full hair and a flowing silvery-blue satin dress, but no shoes, and a pale blue skin tone like everyone else due to her exposure to the cold. Sometimes acts as a steed of sorts for Thalassa in the water. Has the symbol Amatheia on her forehead like her princess. Is only a few decades older than Thalassa.
Thetis Human Form
RP Sample:
"It's raining outside..."
Amatheia laughed softly to herself as she swam through one of the deepest oceans on her planet, feeling the current like a person on land would feel a breeze. Her hair, the train of her fuku and her trailing ribbons streamed behind her as her tail stroked strongly, propelling her forward with great speed. She was close enough to the surface to hear the storm in the sky, the rain pounding on the surface of the water like drums, beating out a tune that made her feel alive, it made her feel like dancing! She did a twirl as she continued to swim forward, then a swift swipe of the tail and she was launched above the surface of the water.
The rain felt warmer and softer compared to the cool saltiness of the ocean. But it was water and it made her laugh to feel it. She stretched out her hands, as if she could catch the drops and smiled at the sight of them. It made her think of light colored gems falling from the sky. She fell back into the ocean with a splash and laughed again as she spun once more in a circle, hands above her head as she watched the large waves tossing and turning above. The ocean surely felt the same way she did, and it was dancing with her!
"Princess Thalassa!" She heard her name being called and stopped, looking in the direction of the call. She could see one of the new advisers, to be one of her own group when she took the throne, swimming toward her, nearly out of breath. "Princess Thalassa, your parents need to see you!" He explained, and Thalassa gave a small sigh with a smile, though she didn't feel too disappointed. She would have to enjoy the rain another time. Duty called.