Relaxed Character Profile
Character Name:
Yaten Kou
Gender:
Female on Kinmoku/in Senshi form, male on Earth
Age:
16 
Character Image:
Personality Traits:
Goal-oriented. Forthright. Loyal. Can appear rude and selfish to others. Conceited.
Storyline Specific Information:
Children of the Stars:
Princesses Seiya, Taiki and Yaten have just awakened as the senshi of their home planet, Kinmoku, and are the new Starlights to replace the old ones. Though still only children as they leave their homes to move into the royal palace on Kinmoku and to meet the young princess of their planet, Kakyuu who is younger still than they are, and the princess they must dedicate their lives to protect. The only problem is that their powers have not yet awakened, and how can they protect their princess without their powers? And how will they be able to adjust to being away from the only home they've known up til this point, separated from their parents and friends? Will Kakyuu be able to become friends with the people who will protect her, or will she forever be seperated from them by rank?
But more than that, how can they be a team when they are all strangers to each other? Mischief and mayhem abound as the four children get into trouble in the palace, get out of trouble with each others help, develop friendship, and learn more about each other and themselves.
In this RP, Yaten will be child of middle age, so in full bloom of childhood. Due to this, her traits also get clear now - even more than before, so that they can also appear extreme. However, this doesn't only go for her good traits, but for her bad traits as well.
RP Sample:
Sitting in his regular seat in the band's meeting room, Yaten tapped his fingers in strict time with the simultaneous drum solo of Seiya, his green eyes staring rather gloomily to the ground.
How long ago was that? That he saw the princess the last time?
It hurt thinking about it.
Despite the last time being only a few months ago, it already felt like years, if not even centuries, to him, making him gradually realize how the great distance to his princess just made him get more and more impatient as time went by.
Not that he only missed her - no - what made it even worse was that they needed her now - even more than ever before.
So why didn't she show up?
He frowned as the drum solo of Seiya slowly came to an end, his fist clenching and eventually banging on the table. A loud thud was audible in the room, the shaking of the table's glass top remaining for several seconds.
"Why won't she come out of her hideout?!"
Noticing the looks from his friends, Yaten eventually settled back again, trying to regain composure. "Sorry," he only commented on his emotional outburst, his focus then switching back to his own thoughts.
Just why didn't she show up... 
Senshi Information
Senshi Name:
Sailor Star Healer
Senshi Fuku: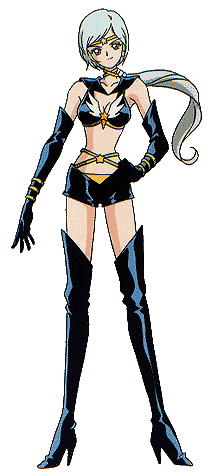 Powers and Magical Items:
Attack:
- Star Sensitive Inferno
Magical Item:

- Sailor Change Star (used to transform into Sailor Star Healer)