Character Name:
Elizabeth "Lita" Witlock
Gender:
female
Age:
18 
Character Image: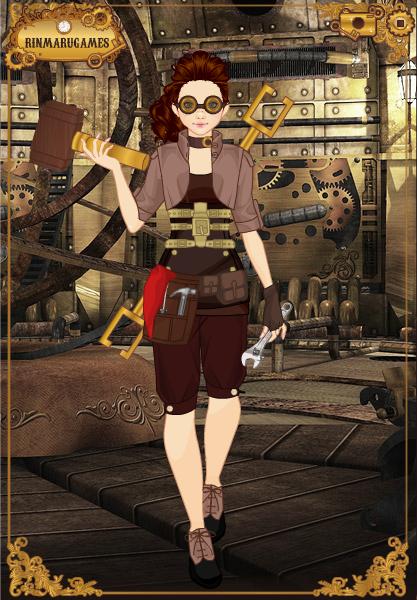 Personality Traits:
Independent, gentle, honest, romantic, lonely

Storyline Specific Information:
Perils and Petticoats
: Communities in this Victorian world are being threatened by something that they can only call the "Fading". Whole communities have been swallowed up, leaving straggling migrant refugees. Her royal majesty's airship fleet is suffering losses from vanished ships. No one knows what is causing things and people to simply disappear right in front of witnesses' eyes. Only a few town remain as yet unaffected but it is spreading.
When young Grace Katherine Hart's father, the fleet admiral goes missing, her and her team of friends stumble upon an old poem tucked into a book that speaks of five legendary warriors who will break the curse with the power of an invaluable gemstone called the Imperium Silver Crystal.
They misinterpret the poem, and believe they have to find five women who they can turn into legendary warriors through the use of science and technology. So they put an ad in the paper promising adventure and fame, and get to inventing. Lucky for them, and unbeknownst to them, the women who do answer the ad in fact are the planetary senshi! They do not know of their senshi identities so at first they are equipped with invented weapons and such that just coincidentally are sort of in line with their powers. But as things progress they begin to awaken for real. Their mission is to figure out how to find and awaken the crystal as well as discover the source of the "fading" and confront the one responsible.
Our young Lita answers this add due to how similar the disappearances seem to those of her own parents. She can't help the nagging feeling that the disappearances of the fleet admiral and her parents are somehow connected.

Additional Information:
Elizabeth-or Lita, as her parents called her, was an orphan. Lita knows very little about her parents, except the information she was given by her grandfather. What she does know is that her nickname, unusual for the name "Elizabeth," was given to her by them and that her parents died in an accident involving an airship during their travels-travels that Lita never got to learn about. Lita lived with her grandfather until his death when she was eight, and would have been sent to the poorly run orphanage on the edge of town if it weren't for one of her grandfather's closest friends who had just started a blacksmithing business. Taking note of young Lita's strength for her age, he recruited her as his apprentice. While he isn't the best at expressing his emotions outwardly, he's been like a father to her for the past ten years and truly is kind despite his rough exterior. The blacksmith takes the heavier part of the job-taking care of orders, taking payment, reviewing the blueprints, but it's Lita's job to smelt the metal with the correct length and thickness for whatever project their shop has received.
When she's not working, she's spending time tending to her potted plants in her bedroom-the attic of the shop and reading cookbooks. While she doesn't detest her metalworking, if she had a choice, she would be running a simple flowershop and bakery. She is afraid to express this to the man who kept her from being homeless, for fear or rejection from the only person she has left in her life.
Because of her bouncing around during childhood and her current job and residence at the blacksmith, she lives a rather isolated life from other girls her age. Most women are disgusted with her and her occupation, and she has always heard them gossiping about her across the shop when she's working outside. Because of her upbringing, she doesn't feel feminine enough, and would rather be in her bedroom then outside, for fear of what others might think of her-this being a direct result from the women who she's heard talking about her. 
RP Sample:
Lita awoke with a start. Looking out her window, she could see the light beaming down from the attic window. She could hear birds chirping as well, along with the rumbling and grumbling of machinery beneath her feet.
That only meant one thing...
"AAAH!" She tore off the covers quickly, and ran to her wardrobe! "I can't believe I didn't wake up! He opened shop without me?" Having her hair tie in her mouth, she began to thrust her hair upward into a lazy pigtail.
"Ohhhhh.....I hope he won't be too mad..." She worried as she grabbed her dust jacket and tool belt; scanning it to make sure all the correct items were in place. She smacked the side of her hammer a few times to make sure it was sturdy enough and didn't need to be adjusted in any way, and sprinted down the stairs to the main floor.
"I am so sorry, sir!" She begged, as she ran to the back of the shop. "I'll get started right away!" 
Senshi Information
Senshi Name: 
Sailor Jupiter
Senshi Fuku: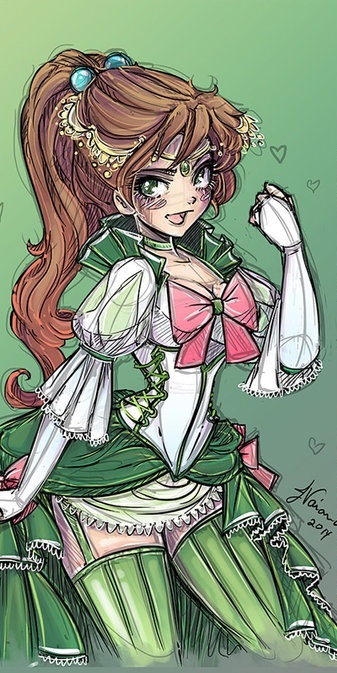 Items/inventions:
Her smiting hammer-It's quite heavy, and can pack quite the wallop as a bludgeoning  weapon.
Static prongs-another tool from her smiting trade. It's a rather large metal staff that has dual sided prongs and can create an electrical current on both sides, normally used for bending and altering metal due to the extreme heat created. Once she awakens as Sailor Jupiter, it can be used for Supreme Thunder and Jupiter Oak evolution.

Powers (once she awakens):
Supreme Thunder-Electricity generates in the static prongs and can lash outward to attack the enemy.
Flower Hurricane-thousands of flower petals create a fog to baffle and blind the enemy.
Sparkling Wide Pressure-Sailor Jupiter concentrates strong lightening in the palms of her hands and throws it at the enemy.
Jupiter Oak evolution-Electricity generates in the static prongs, stronger then Supreme thunder. It unleashes dozens of leaf-shaped green orbs of pure energy at the opponent.