Relaxed Character Profile
C
haracter Name:
Jasper Collins
Gender:
Male
Age:
16
Character Image: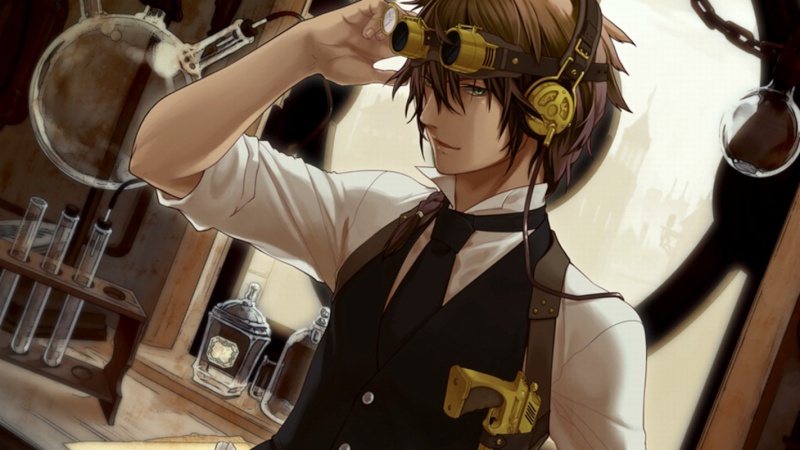 He looks much like the character above except he wears glasses and does not carry a gun in his breast pocket. But the clothes, hair, eyes, and items in the background are spot on. He is tall at about 5'7'' and still has some skinny teenage gangly-ness to him. He wear white shirts, tie, vests, dark brown pants and boots. When in amateur inventor mode he loses the glasses in exchange for his goggles that have moving eyepieces, one of which is a magnifier.
Personality Traits: Jasper is clumsy and can be very excitable. He used to be shy and reclusive stemming from not quite fitting in with kids his age in America, but Grace has opened him up and coaxed out his true self. He is clever and industrious. While he is knowledgeable and innovative, his inventions can sometimes backfire at the most inopportune time. He is in love with Grace but too shy to voice it.
Storyline Specific Information:
Communities in this Victorian world are being threatened by something that they can only call the "Fading". Whole communities have been swallowed up, leaving straggling migrant refugees. Her royal majesty's airship fleet is suffering losses from vanished ships.  No one knows what is causing things and people to simply disappear right in front of witnesses' eyes. Only a few town remain as yet unaffected but it is spreading.
When young Grace Katherine Hart's father, the fleet admiral goes missing, her and her team of friends (OCs from a story I have been writing) stumble upon an old poem tucked into a book that speaks of five legendary warriors who will break the curse with the power of an invaluable gemstone called the imperium silver crystal.
They sort of misread the poem, and believe they have to find five women who they can turn into legendary warriors through the use of science and technology. So they put an ad in the paper promising adventure and fame, and get to inventing. Lucky for them, and unbeknownst to them, the women who do answer the ad in fact are the planetary senshi! They do not know of their senshi identities so at first they are equipped with invented weapons and such that just coincidentally are sort of in line with their powers. But as things progress they begin to awaken for real. Their mission is to figure out how to find and awaken the crystal as well as discover the source of the "fading" and confront the one responsible
Jasper was heartbroken to hear that Grace's father had been taken. His heart really went out to her and he is in awe of her courace and the stoic way in which she took the news and is working to enact a plan to find him. He worries though as to how she will take it if they are wrong and those taken by the fading really are dead. Jasper knows it will shake her to her core. He is determined to do anything he can to help her see the plan to completion.
Additional Information:
Jasper was an odd kid. His parents, busy American merchants and businesspeople did not really understand him. He had few friends and spent most of his time in his room tinkering with this and that. Finally his parents decided to send him to live with his uncle to get some culture and learn the ways of a proper British gentleman. It was hoped that his wealthy uncle would train him out of his eccentric ways and groom him for a career in business back in the states. Little did they know, Jasper's uncle was just as eccentric as he is.
He met Grace due to her mother's nosiness. No sooner did she hear that an eligible young man had moved in than she had arranged for them to be stuck together, of course with Grace dressed to the T's. He had hated it at first but warmed to Grace as soon as he could tell she was not simply a stuffy spoiled girl. Unfortunately Grace's mother soon regretted her decision as they became embroiled in one adventure after another.
Source: RP Sample:
Jasper raced through the streets, dodging carriages and carts loaded with goods. Taking a hard turn he grabbed the corner of a building to slow himself down before racing madly on once more. His glasses bobbed dangerously on his nose, threatening to fall off at any moment. Last night he had dreamed about it and all this morning he had thought about it. He was so keyed up he could climb the walls.
Jasper heard Jack's cries before he reached the boy. "Papers! Get your news here! Six pence a paper! Scandal in Westminster Abbey! Fadings happening on the outskirts of London! Hear all about it!" Jack was always good about sensationalizing a headline in the paper to sell more of them. Jasper skidded to a halt next to the younger boy who prompty said, "You're late! I thought you would never get here!"
The teen rolled his eyes. "Don't even get me started Jack. It has been a rather eventful morning. First I invented a machine that automaticall pours tea. It was incredible! It really worked! But then, I was so distracted about today that I forgot to regulate the fuel intake and…"
"And What?"
"And…it blew up."
"That's amazing! It must have sent tea everywhere! A tea explosion! Way to go Jasper!" The young boy spun around throwing up his hands in mimicry of a geyser of tea.
Jasper laughed, his eyes lighting up as he saw the humor in it. "Tt was NOT supposed to do that you know. But you are right, it was so incredible! I think I nearly gave the maid a heart attack. Though, I am going to have to explain to uncle why his beige rug is now brown." He chuckled conspiratorially. "Now Jack, are you ready?" Today was a very special day indeed. Tomorrow was Grace's 15th birthday and such an auspicious mathematical number meant he wanted to get her something really special. But he had no idea what. He'd tried to invent something for her but after several house-shaking explosions, his uncle had finally given him some spending money and kicked him out of the house to go buy something nice. Of course he had solicited Jack's help. Though homeless and practically penniless, Jack was an amazing people watcher and knew all the new fashion trends as well as anything else that went on in "his" streets. Surely between the two of them they could find something worthy of their dearest friend.
"Sure I am! Operation Grace's Birthday Gift here we go!