Relaxed Otaku Character Profile
C
haracter Name:
Doctor Alexander Lyonhill AKA Doctor Phoenix
Gender:
Male
Age:
37
Character Image: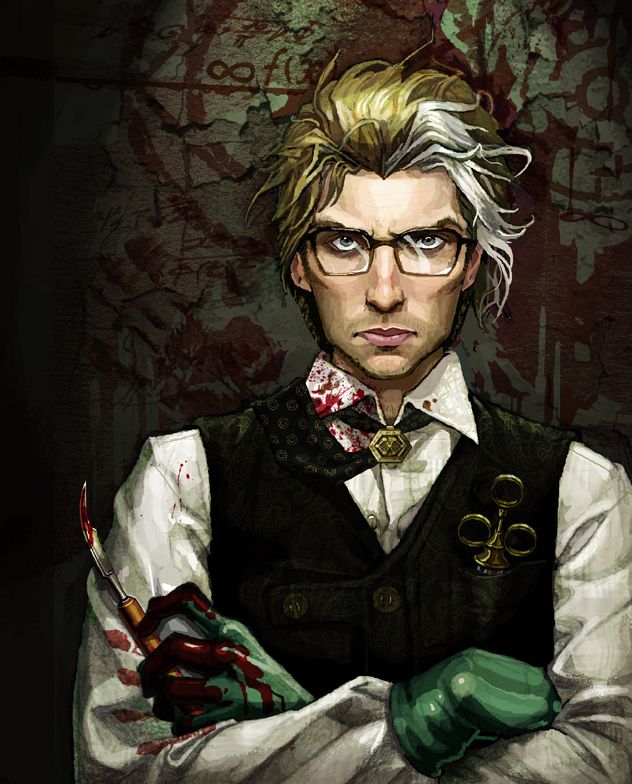 (The only difference is the doctor has jet black hair in a similar style, except it tends to hang over his eyes a bit.)
Doctor Lyonhill is tall and slender at 5'8''. He wears a collared shirt, vest, tie, dark slacks, dress shoes, and has a boach knee-length cloak. He alsl carries a leather doctor's bag. He has a deep-ish smooth voice and a proper upper class British accent.
Personality Traits: Alexander is studious to the point of obsession, sticking his nose into books from an early age. He can be extremely single minded when he is working on a project and often forgets even to eat when doing research. He is feverish in his devotion to medicine and science but he can be rash and does jump to conclusions. He is, or perhaps was, also a doting husband and a gentle man with his wife Victoria.
Storyline Specific Information:
Communities in this Victorian world are being threatened by something that they can only call the "Fading". Whole communities have been swallowed up, leaving straggling migrant refugees. Her royal majesty's airship fleet is suffering losses from vanished ships.  No one knows what is causing things and people to simply disappear right in front of witnesses' eyes. Only a few town remain as yet unaffected but it is spreading.
When young Grace Katherine Hart's father, the fleet admiral goes missing, her and her team of friends (OCs from a story I have been writing) stumble upon an old poem tucked into a book that speaks of five legendary warriors who will break the curse with the power of an invaluable gemstone called the imperium silver crystal.
They sort of misread the poem, and believe they have to find five women who they can turn into legendary warriors through the use of science and technology. So they put an ad in the paper promising adventure and fame, and get to inventing. Lucky for them, and unbeknownst to them, the women who do answer the ad in fact are the planetary senshi! They do not know of their senshi identities so at first they are equipped with invented weapons and such that just coincidentally are sort of in line with their powers. But as things progress they begin to awaken for real. Their mission is to figure out how to find and awaken the crystal as well as discover the source of the "fading" and confront the one responsible
Additional Information:
From an early age little Alexander showed an inquisitive mind. He took apart his father's expensive grandfather clock at age 5, and by age 10 was caught cutting off a frog's leg to try to reattach it again. He fell in love with the advances of science and medicine. After school he would pore through old medical journals at the library. When he was finally old enough to go off to medical school Alexander was overjoyed. It is there that he met Victoria, a young nurse-in-training that he had the pleasure to work with during his internship. With promising careers before both of them they soon happily married and spent ten long wonderful years together, though they were never fortunate enough to bear a child.
His diligence and work got him promoted over and over again, gaining him access to the prestigious lab at Oxford. And then the fading began. The world scrambled for scientists and anyone who could unravel the mystery. Sometime during the Fading, Dr. Alexander's wife began to fall ill. It was an unknown wasting illness that took her vigor and left her bedridden, slowly declining. Distraught and inconsolable, he turned to the only thing that was constant in hsi life, science. He vowed he would find a way to save her and bring her back. At the time he was a well respected doctor and scientist with a research lab at Oxford but as he began to lose his grip on reality and try mre and more daring experiments pushing the limit of accepted science, he was removed from his position and lost both job and reputation as well as access to more advanced equipment. Now angry at the betrayal by his science peers, and even more desperate, he will leap at the chance to work with Mr. Cogs in exchange for access to funds and scientific equipment. It seemed the strange man's clockwork machines, while impressive, were only that, clockwork. They could not adapt to new circumstances and required a person there to guide them. And so, he found his skills suddenly useful in merging a flexible mind with machine. What did it matter to him if he had to meld brains and gears into inhumane monsters? They were already dead anyway. He was going to save his wife at any cost.
Source: RP Sample:Journal entry - November 4th, 1869

My patient has lost the ability to speak. It is a setback in a long chain of setbacks. But I am sure the marvels of modern science will prevail eventually. I only need to find the right combination. There must be a link. If I could only grasp it! First the sickness, then the discoordination and eventual loss of motor movements, and finally the loss of speech. Yet the patient's heart continues to beat so I know the body lives. The patient's eyes, they stare at me so. I must try harder. Perhaps an infusion of electricity....I will attenpt that later. If only I had my laboratory again! Those fools who are so afraid of progress! Nevertheless, I believe I have found an ally who may be of help to me in this task. I meet him presently.
Those eyes, my Victoria's eyes, they accuse me so. Why does she look at me so piercingly? Does she not understand I am trying to help?
He gently rubbed the side of her cheek. "My Victoria, I will bring you back to health, I swear it. Please don't be angry with me for my failures."
Her eyes continued to look at him, though perhaps more pleadingly than angry. He looked briefly up to the tall grandfather clock ,now covered in cobwebs, much like the rest of the house save the bedroom which was converted into a makeshift medical lab. It was past time. If he did not hurry, he would be late to meet his potential benefactor.