Relaxed Character ProfileCharacter Name:
Zoisite
Gender:
Male
Age:
generally between 15 - 17
Character Image: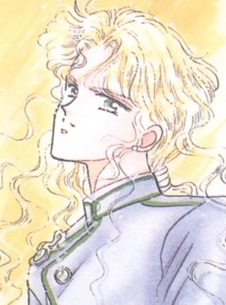 Zoisite is the youngest of four shitennou. He is near the height of Jadeite with dark wavy blonde hair usually tied back into a pony tail with a few strands escaping near his face. He is slender and graceful with an effeminate look about him. Typically he is in one of two uniforms and always neat in appearance. Zoisite wears a gray or white suit with a green trim and black boots. He also wears a pair long white gloves. For formal attire Zoisite wears white jacket golden trimmed piece with dark brown trouser and a brown cape. He wears green stud earrings.
Personality
Traits: He is well cultured, coming from a well-off family on Earth. He is rumored to be a virtuoso on the piano. Being the youngest of the four shitennou and having lived a somewhat pampered life prior to, he can act a bit spoiled and gets upset when he does not have his own way at times. It is easy to tell the emotion he is feeling because his face is expressive and he feels things very deeply, both good and bad. Zoisite is loyal and can be passionate. He is a bit of a romantic at heart and quite intelligent. As evidenced by his neat and tidy appearance, Zoisite does not like to get dirty or come in contact with gross things. He has a bit of a phobia of rats and sewers.
Storyline Specific Information: Optional!
Elysion:
Spoiler:
Additional Information:
Zoisite comes from a high-class background originally before he was sent to serve under Endymion. He is well cultured in languages, courtly arts, chess, music, etc… He is skilled in swordsmanship and their chief strategist. While he may not be as physically strong as the others he is very agile and quick.
Source:
RP Sample:
Duty kept him later than expected. Normally he would be feeling anxious. Zoisite was never late to anything, usually, unless it meant making a dramatic entrance of course. And he was so looking forward to this meeting too. The blonde walked briskly along the palace halls, his boots making sharp sounds against the marble floor. He knew she would wait for him. He could tell in her patient, kind blue eyes.
When she had agreed to accompany her princess down voluntarily to have a game of chess he had been ecstatic. Few could keep up with him in the game, and thus it was rare that he could really let loose on the chess board and have fun. He had not played her yet, but just from the brief conversation he could tell she would be at least good at it. Whether or not she would prove a challenge was yet to be seen.
He tried not to look too eager, reigning himself in from outright running. One had to keep up appearances after all, and a general should not be seen running through the halls unless there was a battle of course.  And it would not suit him to arrive sweaty. Zoisite hated to sweat. But it still seemed an eternity until he reached the piano room, where a solitary blue haired princess sat with a book in hand at the chess board.