Okay so I watched this
months
 ago, but I just ran across one of the songs on my computer and I'm spiraling back into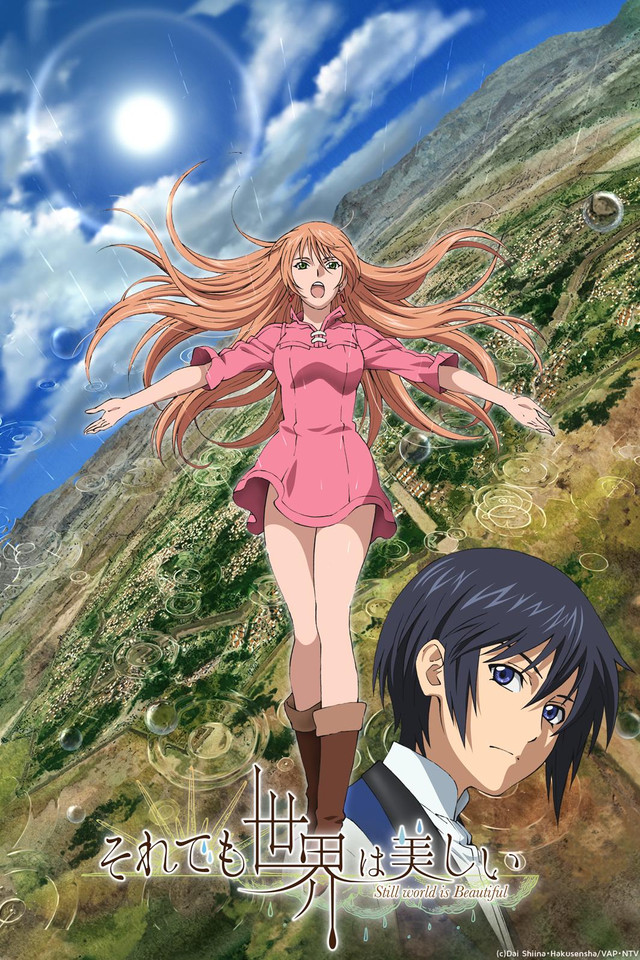 Soredemo sekai wa utsukushii
The World is Still Beautiful
It's a feel-good shojo 12-episode run of feelings - it's like junkfood for your heart. It's about a girl - Princess Nike - who is a princess of the Principality of Rain; she comes to the Kingdom of the Sun because she drew the short straw in who had to marry the Crowned Prince/Emperor of the Sun Kingdom (of which the Rain Principality is part). The Emperor's name is Livius, and he's notoriously cruel (oh we get to find out why and it's just. umph so good yes all the memories :>) and demanding and, well, young. He chose his wife based solely on wanting a princess from the tiny insignificant Principality of Rain, despite having options to marry princesses from kingdoms and principalities that would grant him greater favors, because the princesses of the Principality of Rain can make it rain. They sing and the gods respond, but only if their song is true to their hearts and to the land, but blah that's getting technical.
Anyhoo, it's fun and it's interesting and the feels just hit you because these two start out with like a sibling-type relationship because of the age-difference but Nike starts seeing who Livius will grow to become and it's so great. Their relationship is fabulous and flawed but they get through it and -- I just can't seem to phrase things right xD
BUT OKAY SO THE SONG THAT BROUGHT ME BACK is Nike's song to bring the rain - "Tender Rain" - which I've youtubed for you~ The opener and credits are awesome, too, but this one just. ♥ 
ANYWAY if you've seen it or if you want to watch it (pst I'd totally be up for watching it again with people) reply here and we'll word at each other. 
!! Oh and I made a little Nike sprite! If you want to claim her (use her in your gallery or your signature, whatever) you are totally welcome to~ Just please post here so I know she's found a home with you ^^
oh look i made it rain around her~ so proud of rudimentary sprite gif skills~ bahaha
um the end
___________________________