Character Name:
Rei Hino
Gender:
Female
Age:
14 -16 (Depending on the time period)
Character Image: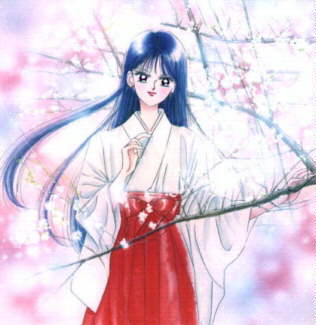 Personality Traits:
Passionate, Strong-willed, spritual, and independent sum up Rei's good traits. However, she can be short tempered, bossy and is distrusting of men.
Storyline Specific Information:
Crossed Wires SSI
During the time period of the Black Moon Clan, Mars and the other guardians were fighting one of Koan's droids and trying to protect Chibiusa when suddenly Chibiusa's innate powers and Koan's droid clashed. The next day, Rei woke up a lot more cheerful, flirty and obsessed with idols. Rei hasn't noticed the change yet but so far Yuuichiro had, with no complaints however. Her classmates at school that day also noticed a slight change in her behavior but even though it caused quite a stir, they all seemed to like the new Rei.
Additional Information:
Rei Hino is the daughter of a politician and priestess at Hikawa shrine. Her mother died when she was young and due to her father being always too busy with his work, Rei grew up alone at the temple, along with her grandfather. Rei is beautiful, elegant and graceful however on the other side she is fiery and full of passion which can clash with others from time to time. Rei is often the intuition and spiritual voice of her group of friends, often praying and reading fires for insight of what is to come. She has psychic abilities in her civilian form, spanning from before she was awakened as a Sailor Soldier, and she is able to dispel evil spirits and monsters.
Rei is loyal to her friends and is willing to protect them at all costs. She is close to Usagi, although she often at times feels exasperated at her antics.
Source:
None used
RP Sample: Your character is running late for a meeting! Why are they late and what do they say when they get there?
Eyeing her watch nervously yet keeping a calm demeanor, Rei was late. It didn't help that the bus was seemingly taking extra long to get to her destination.  She sighed, rubbing her temples, remembering the scene at the temple before she left. She was trying, very hard, to not beat Usagi to a pulp.
Remembering it made her grip her school bag handle tighter. "She'll pay for ripping a page in my manga," Rei thought to herself.
But that didn't matter now, due to Usagi's...attempt at apologizing and fixing the problem (which she only made worse), Rei was now late for a club meeting at her school. She began to impatiently tap her foot as she awaited her stop. She looked around the bus and saw a boy around her age give her a smile. She frowned and quickly snapped her head in the other direction, flipping her hair with her free hand.  
Finally the bus arrived at her destination, she eyed her watch again. Only a few minutes until she was late. She could make it if she sprinted from here. Rei Hino was never late.
--
Gasping for air, she stood outside the door of the club meeting room. She eyed her watch again as it turned to 3:00 pm on the dot. Rei smiled, adjusted her clothes and posture and walked into the meeting room, with confidence and grace.
"Hello, I'm Rei Hino, age 14 from Classroom 1-A. It is nice to meet you all." She bowed politely and gave a pleasant smile, "I hope I'm not late."
---
Senshi Information Senshi Name:
Sailor Mars
Senshi Fuku:
Powers and Magical Items:
Magical Items:
Ofuda Scroll
- A ward that can bring protection or luck to the user. In Rei's case, she can use to get rid of evil spirits and damage  youma. The kanji "悪霊退散" (Akuryo Taisan) on the ofuda translates to "Evil spirits, be gone!" (or disperse or any word with similar meaning).  Rei is able to use this in her civilian form or as Sailor Mars.  
Mars Transformation Pen
- First item that Rei receives in order to transform
Mars Star Power Stick
- Second item used to transform after the pens were destroy in the Dark Kingdom Arc.
Mars Crystal Wand:
- Third item used to transform into Super Sailor Mars
Communicator Watch
- A watch given to Rei by Luna that allows to her to contact the other Sailor Soldiers.
Powers:
Akuryo Taisan! (Evil spirits, be gone!)
- Rei or Sailor Mars throws one or several ofuda scrolls
Fire Soul
- her first basic attack, she shoots a fire blast from her finger tips.
Mars Snake Fire
 - Mars releases a fiery blast in the form of a snake
Burning Mandala
- Mars uses a Buddhist mandala to shoot burning rings at the enemy
Mars Flame Sniper
- An attack in which she calls forth the "Mars Arrow", a magical bow and arrow, and shoots a flaming arrow at the enemy using her magic and archery skills.