Advanced Character Profile
Character Name:
Makoto Kino
Gender:
Female
Age and Date of Birth:
16, December 5th 
Used Canons:
Anime/Manga 
Appearance:
Makoto has long, wavy brown hair that she keeps tied in a ponytail with a green barrette. Her eyes are green and she wears a set of pink rose earrings. She is 5'7" in height, taller than the average girl in Japan, and she's physically fit  from her martial arts training. Her skin becomes marked with a green circuit pattern spreading from her chest to her limbs and neck when she's using her abilities.
Makoto's high school uniform is a blue skirt with a blue collar and red stripes. Her casual outfits can range from a simple jacket and long pants, to a more traditionally feminine skirt and blouse combination.
Personality: 
Makoto looks intimidating at first glance, with her quick temper and tendency to get into fights, but she's really a kind person. She is protective around people who can't defend themselves, and will always step in to guard the honor or reputation of her friends, or support them in any way. She's headstrong, sincere, and straightforward thinking, and will often charge into something without much of a plan. 
Beneath her tough exterior lies her softer side, and she is fond of romance, getting crushes on guys who resemble the boy who rejected her in the past. Before she got into high school and started making friends, she was more of a loner, used to being shunned or avoided by others. Mako is courageous and does not back down from a challenge, but sometimes still wrestles with the thought that she's too tomboyish or rough for a girl. She's become more independent than the usual teenager from having to live on her own and take care of herself.
Makoto's dream is to get married, and open a flower shop or bakery. She likes cooking, gardening, shopping, video games, karate, cleaning, and reading romance novels. She dislikes cheaters and bullies. Mako is afraid of airplanes and is easily distracted by people and things that remind her of her past love life, but is also loyal to a fault and never gives up on someone.
Any Unique Abilities/Skills:
Makoto is a martial artist and a great cook. After surviving a plane crash when she was a younger child, she now possesses the ability to create and control electricity, and has enhanced strength. She can also sense storms coming in the distance or other electrical disturbances nearby. 
History:
When she was 6 years old, Makoto and her parents were taking a plane back to Japan from a family vacation. Before the plane could land, it was hijacked by a crew of robbers, who took control of the jet and threatened the passengers' lives for money. Because the pilot couldn't control what was going on, the plane ended up flying through a thundercloud and being struck multiple times. The engine failed, and it crashed landed on a mountainside in the forest. Makoto's parents died trying to protect her, along with most of the other passengers except for one of the hijackers. That incident was what triggered her abilities to manifest, and she ended up an orphan. 
Makoto jumped from foster home to foster home, having a difficult time adjusting due to her developing powers sabotaging things. She couldn't fully understand what was going on either, so she was simply blamed for the odd power outages and broken electronics.
She constantly switched schools growing up afterward, repeatedly getting into fights with people because of her height and appearance. Mako developed a rougher exterior to better defend herself, and  she quickly ended up building a reputation of being a troublemaker and dangerous. After once again changing middle schools, she ended up living alone at age 14 in her own small apartment. Her first day of High School was different though, and she finally made more permanent friends to count on, though she is still wary that she could lose them and does her best to try and seem as normal as possible.
At the same time, she begins leaving her apartment at night to patrol the streets in costume as Juno, protecting others from criminals. She uses it as a stress relief and a form of exercise as she starts to realize that her electricity is better controlled when used regularly instead of suppressed.
Other Noteworthy Facts: 
Starsign:
Sagittarius
Blood type:
O
Favorite Flower:
Sazanka
Favorite School Subject:
Home Economics
Least Favorite Subject:
Physics
Storyline Specific Information:
Love and Justice League-
 Makoto is the vigilante hero Juno in this RP, and fights alongside other heroes to protect the city against members of the Chaos Syndicate.
Superhero Information
Name:
Juno
Realm of Influence(s):
Lightning and Strength
Henshin/Transformation Phrase:
None, she has to change outfits normally.
Outfit: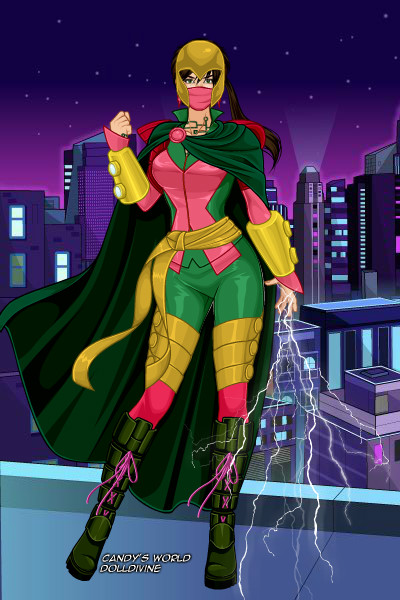 Powers: 
Electric Generation-
Juno can create her own electricity or call it from other sources. If given enough time, she can summon a lightning bolt to recharge herself.
Electric Manipulation-
Juno can control and channel electricity and change its shape and power for various attacks.
Super Strength-
Juno is multiple times more physically strong than the average human, and can lift and throw things larger than herself.
Weapons or Magical Items: 
Helmet and Arm guards
-
They can both channel her electricity to add to her blows.
Sidekick:
N/A 
RP Sample: 
Here: