---
Relaxed Character Profile
Character Name:
Chibiusa Tsukino/Tsukino Usagi Small Lady Serenity
Gender:
Female
Age:
around 900
Character Image: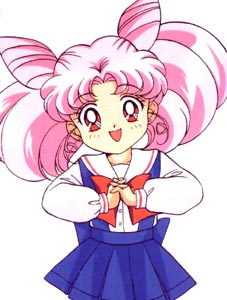 Personality Traits:

Bratty, slightly spoiled , mysterious , pretty , pretty popular
Storyline Specific Information:
Optional!
To be filled in during storylines, not before! This section is for you to detail information about your character that is specific to a certain storyline(s). Fill out this section with each separate storyline, so you don't have to send multiple character profile applications for the same character.
Additional Information:
Optional!
RP Sample:
Red petals were flying in the front of Chibiusa as soon she was running to the charmed forest to meet Helios.Before entering in the forest she realized that she forgot to tell Usagi and the others that she's leaving.She wanted to go back to Juuban , but a strange energy forced her to enter the forest.
                 Inside the forest there weren't any animals or flowers , there was only way . That way leaded Chibiusa to a lake were she saw Helios.She ran to him , wanted to give him a hug but Helios dissapared ."No!"said Chibiusa falling into tears.
Senshi Information (delete this section if not applicable)
Senshi Name:
Sailor Chibi Moon
Senshi Fuku:
Powers and Magical Items:
Luna P - Her little toy.It can transform to anything Chibiusa wants.
Prism Heart Compact - Her first transformation item .
Moon Prism Power Make Up! - Her first transformation phrase.
Pink Moon Stick - Her first attack item.
Pink Sugar Heart Attack! - Her first attack. It shoots little hearts that don't do any damage, but instead tends to annoy most enemies.
Crisis Mini Moon Compact - Her second transformation item , which helps her transform into Super Senshi.
Moon Crisis Make Up! - Her second transformation phrase.
Crystal Carillion - Her second attack item . With it she calls Pegasus.
Twinkle Yell! - She calls Pegasus with this phrase using the Crystal Carillion.