Character Name: Homura Higurashi
Gender: female
Age: 10
Character Image:



teal blue eyes with a sea foam color in them (but right now has no brightness in them)




has medium wavy hair that goes to her shoulder blades; has no bangs




wears a white shirt with a black loose leather jacket




wears loose denim capri that reach just below her knee caps which makes it easy for her to move.

 

Personality Traits:
Homura does not know many emotions because of the spell she is under, she knows hurt, anger, sadness and fear. She takes up for her team even the punishments by getting blasted at by their boss or yelling of their failures. She is very strong from the spell and hates Sailor Uranus due to their past. Her attacks and mind is set purely on revenge. On the other hand, she is brave and sticks up for her team.
Storyline Specific Information:
 The Chibi Senshi arrive! A new enemy: In this the chibi outers are under a spell and are ordered to kill the senshi. Chibi Uranus is the first to set free because of Sailor Moon. She eventually gains a bond with Haruka but what about her own team? How can Chibi Uranus save them?
Additional Information:
In  the silver millennium Chibi Uranus was Sailor Uranus' best friend. During the last battle they had promised to meet in the secret garden but Sailor Uranus never showed. Chibi Uranus waited until they were under attack she still remembers Sailor Uranus' last words to her. "Go back to the garden and wait for me. I promise I'll be there." Uranus had told Homura. 
Homura did just that, but Uranus never came, after the battle she went searching for Uranus, and she found her dead. Homura fell to her knees and sobbed for her best friend. Upon hearing a voice she turned to darkness surrendering her soul, but because of the darkness Homura now hates Haruka.
RP Sample:
 Chibi Uranus had picked a target to steal her soul, it was their new job. After an attack on their planet kingdoms, the Chibi outer Senshi had to do as their master wanted, they didn't know why they had to steal souls but when Homura had asked she was blasted to a wall. Sighing Chibi Uranus corned her target and aimed taking her soul, hoping it was right one but alas it wasn't.
"I wasted all day looking for her and it's not the right one!?" She got out her saber to destroy the soul, walking over to destroy it she was interrupted by a voice of 10 girls. Chibi Uranus turned to them confused then knew whothey were.
"Oh, your the Sailor Senshi my sisters have talked about, well I'm not wasting my time, have fun playing with my friend brats." Was all Chibi Uranus said before disappearing in a small dark blue light after the Youma she summoned appeared to fight the Senshi. 
Senshi Name: Sailor Chibi Uranus
Senshi Fuku: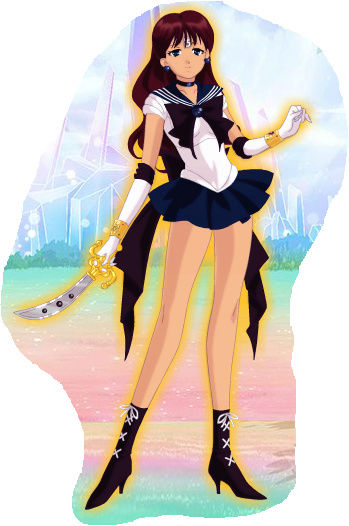 Powers and Magical Items:
World Shaking: raises hand up to summon a blue energy sphere with a ring like the planet Uranus and slams her fist to the ground to send the attack. She can use it in the air as well.
Space Sword blaster: Uses saber to attack, by swinging it and it sends an Arial attack to her target
Henshin pen: Uses it transform into Sailor Chibi Uranus by saying "Uranus Chibi Power, Make Up!"