Character Name: Sakura Yumiko
Gender: female
Age: 14
Character Image:



garnet red eyes; has no brightness




dark tan skin




wears dark colored dresses that look like uniform outfits




rarely smiles




usually has a serious face



Personality Traits:
Loyal to Chibi Uranus and their mission, unemotional because of spell she is under, skeptical of whom they are working for, suspicious of Chibi Uranus' way of fighting. Kind to the Chibi Outers and treats them like sisters. Jealous of Chibi Uranus since she is oldest but not the leader
Storyline Specific Information:
The Chibi Senshi arrive! A new enemy: In this the chibi outers are under a spell and are ordered to kill the senshi. Chibi Pluto is the 3rd one to be set free of the spell because of Sailor Moon. She gains a bond with Setsuna later on.
Additional Information:
RP Sample:
 Chibi Pluto sighed, unsure of what they were looking for "Why am I always used as bait for our plans?" She asked Ayame with another sigh. "And what's with Chibi Uranus' way of fighting? It's different than usual, something's not right...." She said skeptically to Chbi Neptune earning a scolding.
"What? You know it's true, besides what are we even looking for? Maybe then it'd be easier to find the right person." She stated suspiciously of their new mission but she stayed loyal to both Chibi Uranus and their mission...what ever is was. 
Senshi Name: Sailor Chibi Pluto
Senshi Fuku: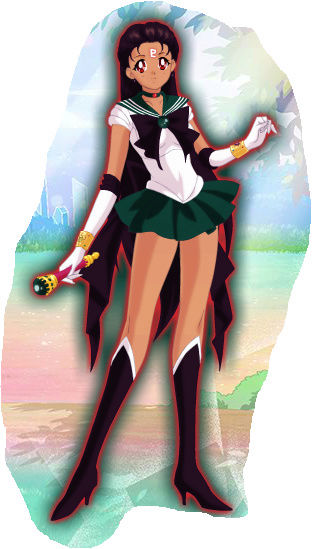 Powers and Magical Items:
Dead scream: raises her hands and summons the dead scream by throwing it at her target(s)
Chronos Typhoon: she raises her hands and says her attacks sending many purple Arial waves towards her 
opponent(s)
Henshin Pen: uses it to transform into Sailor Chibi Pluto by saying "Pluto Chibi Power, Make Up!"