Character Name: Mei Satomi
Gender: female
Age: 13
Character Image: 


Dark purple eyes but have no brightness in them for now

Very short purle hair

Very short bangs that go to the right side of her forehead

Wears bright colors

Wears leggings and long sleeve shirts

Mostly wears sleeveless or shoulder-less sleeved shirts 

Personality Traits: 
Short tempered when she doesn't get what she wants, suspicious on if her and the Chibi Outers have souls which is what they are after, skeptical of Chibi Uranus and why she is leader, but is still Loyal to them and their mission along with very reliable when needed on missions.
Storyline Specific Information:
The Chibi Senshi arrive! A new enemy: In this the chibi outers are under a spell and are ordered to kill the senshi. Chibi Saturn is the 4th one to be set free of the spell because of Sailor Moon. Has a small bond with Hotaru but a close one with Chibi Pluto.
Additional Information:
RP Sample: 
Chibi Saturn was deep in thought in her quarters thinking 'I wonder if we have souls too, Chibi Uranus knows more than she's telling us...' She thought suspiciously heading to see Chibi Uranus to find an answer.
"Chibi Uranus, can I see something?" Chibi Saturn asked, wanting an answer once and for all. She smiled when Chibi Uranus stood where she was told. 
Chibi Saturn rolled her eyes when Chibi Uranus got impatient, so she quickly took her soul making Chibi Uranus scream in pain but they all gasped at the sight.
"Just as I thought...we have no souls." Was all Chibi Saturn said trying to take it in and just walked back to her quarters.
Senshi Information (delete this section if not applicable)
Senshi Name: Sailor Chibi Saturn
Senshi Fuku: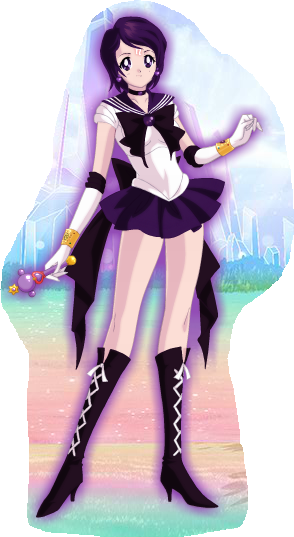 Powers and Magical Items:
Death Ribbon Revolution: jumps in the air and raises her scythe and a ton of ribbons tears her enemies to part
henshin pen: uses it to transform into Sailor Chibi Saturn by saying "Saturn Chibi Power, Make Up!"