Character Name:
Minako Aino
Gender:
Female
Age and Date of Birth:
13 when as Sailor V, 14-15 as Sailor Venus, 15-16 as Super Sailor Venus, 16 as Eternal Sailor Venus (manga only.) Date of Birth October 22nd.  
Used Canons:
Manga,
Sailor V manga
,
90s anime, Sailor Moon Crystal. 
Appearance:
Minako has bright blue eyes and long blond hair, worn down at all times with a red bow tied up in the back of her heir near the top of her head. Standing at about 5 feet, or 152.4 centimeters, she can normally be seen wearing a sailor school uniform during the weekdays, and sporting vary fashionable outfits when not in school. Unlike the other senshi, Minako goes do a different high school, so instead of a bow on the front of the uniform she wears a red scarf instead. By the time the sailor stars arc rolls around, she wears the same uniform as Makoto, Ami and Usagi as they are in the same school together.

Personality:
Minako is quite the loud senshi, both in personality and in energy. She is often the first one to get into what the latest trend is, especially if it has to do with male celebrities, as one of her hobbies is stalking them. Often described as "boy crazy," Minako is very outgoing, and is on the volleyball team at school, making her quite athletic. She is only lazy when it comes to her studies, and is often in the same boat as Usagi when it comes to grades, prompting her to join the others during frequent study sessions. She is also a fan of video games. Her dream is to become an idol.
Regardless of how carefree she seems, she takes her duties as a senshi very seriously. She was the first senshi to be awakened as sailor V, and had her memories of her past life return to her long before Luna Met Usagi. She is determined to protect the princess at all costs, and shows outstanding leadership skills when the times call for it, asking the correct questions to get the most relevant information, and sometimes helping Luna and Artemis develop battle strategies in anticipation for the next enemy attack. This dedication is proven when she developed a plan with Artemis to pretend to be princess serenity before meeting the rest of the senshi after they awakened in an attempt to keep the Dark Kingdom from finding the real princess and obtaining the silver crystal. Also during this time, she was giving sailor moon extra tips and encouragement through the Sailor V arcade game at the Crown Arcade center. Before meeting Sailor Moon and the others, she was often poked at by her classmates as a loner as she focused on crime fighting as Sailor V, lending her help to the police. Minako's memories of the past and her identity as one of the guardians of the Moon Princess isolated her during these times, and she was very lonely. This all changed after meeting her fellow guardians and Usagi, however, and now she is known for her cheerfulness and playfulness.

Any Unique Abilities/Skills:

 Singing, jumping/running, gymnastics.
History:
Minako Aino was just another lazy teenager until she accidentally landed on Artemis during a gym class after failing a mid-air somersault. Later in the day, she discovers that the cat has followed her home, and once Artemis starts telling her that she's been chosen, she first dismisses him as a pervert. Once she is given her first magical item, a crescent compact mirror, she receives brief flashes of visions of the planets earth and venus and the castle magellion. She faints and awakens thinking it was a dream. She is ready to give a love letter to her crush, a student by the name of
Higashi whom she met during school hours the previous day, spouting the red ribbon he had told her to wear. She is just about to shove her way through the crowd of admirers, also spouting red ribbons as Artemis notices the foul aura coming off of him. He stops Minako from approaching him just as Higashi's true nature is reviled as Narcissus of the Dark Agency, one of the Dark Kingdoms first methods of collecting energy for Beryl and Metallia. It turns out he asked the admirers to wear red ribbons so they could help him mark potential targets, and seeing the students faint upon getting their energy stolen has her stunned, but as she begins to get her energy stolen Artemis throws her first transformation pen. With the guidance of a mysterious voice; She transforms as a senshi for the first time, and destroys him with the crescent compact mirror, seeing his true form reflected in the mirror's image. Minako is heartbroken about the truth of her first love, but agrees to work with Artemis and this voice wanting to be called "boss."
Other Noteworthy Facts:
Minako's favorite food is Curry, her least favorite food is mushrooms. She dislikes needles and rain. Her blood type is B, her star sign is Libra, her favorite gemstone is Topaz and her favorite subject is physical education. 
Senshi Name:
Sailor Venus
Realm of Influence(s):
Love
Henshin/Transformation Phrase:
Venus Power, Makeup! Venus Star Power, Makeup! Venus Planet Power, Makeup! Venus Crystal Power, Makeup! Moon Power, Transform! (This is left over form her days as Sailor V. Using the Crescent compact, she can disguise herself as whatever or whomever she wishes.)
Senshi Fuku
:
Standard Fuku
Super Fuku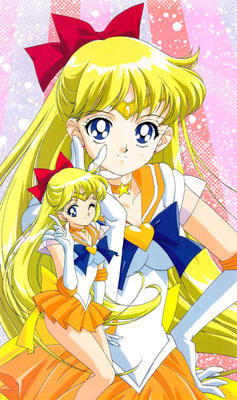 Eternal fuku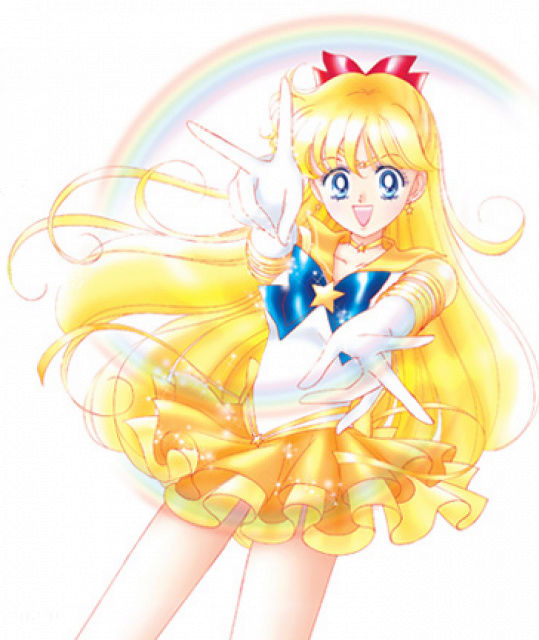 Powers:
Crescent Beam-Sailor Venus  aims her finger in the air, and a yellow energy generates. She then focus and points at the enemy, releasing a highly powered beam at the target.
Crescent beam shower-A more powerful version of the Crescent Beam, Venus generates multiple beams into the tip of her finger instead of one, and they all launch at the target at once for devastating damage. 
crescent boomerang-an attack from her time as Sailor V, Venus throws a sharp, sometimes multiple, crescent shaped boomerangs at the target, resulting in lacerations.
Venus love me chain-Sailor Venus uses the power of the ruby colored Venus Chain to have it materialize and ensnare a target.
rolling heart vibration-An ornate yellow heart appears in Sailor Venus' Palm. She flicks it, and it becomes a solid bean of heart-shaped energy that shoots at the target in a similar fashion to the Crescent Beam. 
Venus wink chain sword- Sailor Venus winks, and a orange heart appears. She grabs it, and the Stone sword, now returned to it's normal form after the battle with the dark kingdom-materializes. As she launches it, it becomes a more powerful version of the Venus chain, capable of directly harming the target instead of simply tangling it.
Venus love and beauty shock-Venus' most powerful attack. She blows a kiss into her palm, and a yellow heart appears. She Launches it to her side, and many duplicates of this same heart surround her in a circle. They all form into one giant heart, which launches at the enemy.
Weapons or Magical Items:
Transformation Pen, Star Power Stick, Sailor Venus Crystal Rod, Crescent Moon Compact,  Venus chain, Sword of the Silver Millennium. Also has a communicator that enables her to contact any senshi at any time, but it doesn't seem to have any additional magical properties. 
Guardian:
Artemis
Senshi Name:
Sailor V
Realm of Influence(s):
Love
Henshin/Transformation Phrase:
Moon power, Make up! Crescent power Transform! (This enables her to disguise herself as whatever or whomever she whishes)
Senshi Fuku:
Powers:
Crescent Beam-Sailor V aims her opened compact in the air, and a yellow energy generates within the mirror. She then focus and points at the enemy, releasing a highly powered beam at the target.
Venus Power, Love crescent shower-Sailor V aims her open crescent compact to collect energy from her guardian planet. It releases in a rather gentle looking wave of light, and is capable of destroying monsters and breaking innocent victims free from the Dark Agency's control.
Crescent Boomerang-Sailor V throws a sharp, sometimes multiple, crescent shaped boomerangs at the target, resulting in lacerations
Weapons or Magical Items:
Crescent Moon compact, transformation pen, Magical Microphone
Guardian:
Artemis
RP Sample:
"
eeeeeehhhhh!?"
A loud shriek of shock echoes throughout the Aino household. Stomping can be heard, as well as the various clamor of slamming and shutting of drawers and doors.
"Artemissss!" Minako wails, floundering through her closet as to pick out a fashionable outfit for the day. Instead of putting it gently on her bed, however, she simply throws it, and the pieces and parts of her clothing for the day land gently on the pillow.
"Why didn't you wake me!? I have a meeting with the girls in a half hour!" Before Artemis can even open his mouth to retort, Minako is already in a bath towel. She shoves her transformation pen in his mouth.
"Here, hold this." With that the bathroom door slams shut, as Artemis spits out the pen.
"Minako! I tried to wake you, but you wouldn't wake up! Your alarm didn't go off, either"
An echoed shout comes from the other side of the door. "Shouldn't you have double checked to make sure it was set right? You know how old that thing is!"
Artemis puts a paw to his forehead. "You're perfectly capable of setting an alarm, Minako! There's no reason I should have to "double check.""
A moment of silence, and then:
"Well you might wanna start, cause I'm not the only one late!" At this point, the sound of a hairdryer can be heard.
Artemis blinked. "Huh?"
"You're expected to be there too!" She pops out of the bathroom, just as Artemis realizes the truth in her statement. He begins to hand her the smaller portions of her outfit.
"Well hurry up then!"
"Alright, alright!" Once she's fully dressed, she grabs Artemis and they hightail it out of the house, hoping that nobody will be mad at them.