Seren Celeste 


[Gender]
Bigender (She/her pronouns)
13.8 Billion Years Old
Born at the Creation of the Universe


Seren has short, brown hair, and sparkling brown eyes. She has a flat chest, slim body with pale skin, and freckles on her nose. She also has a youthful appearance of someone in their 20s and she doesn't age. Her clothing style can vary from masculine to feminine, but she prefers wearing dark solid colors. She loves to wear scarves and things in her hair. She keeps her eye make-up to a minimum with eyeliner. Her shoes of choice are boots, which are very sturdy for all the walking and traveling that she does.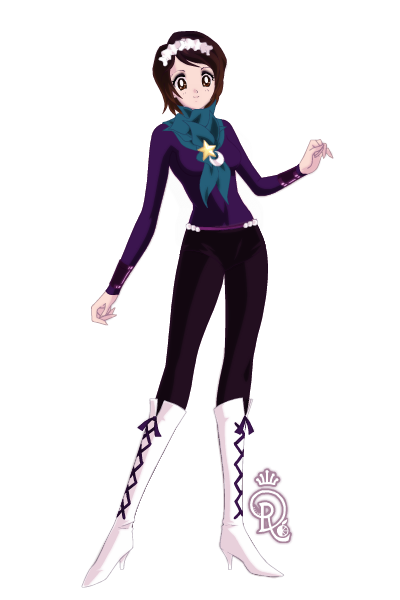 Seren is known to be very quiet and shy. This is from being alone for so many years. She doesn't know much about socializing with others except with her cat Nova, and often struggles with it. Sometimes she becomes afraid of people around her on Earth because she doesn't really know what to do or how to communicate with them. It is a struggle for her but she is continuing to learn every single day. However her independence also has proved beneficial to her as she doesn't have to rely on people and is able to rely on herself for help and other needs.

Since she is very old, she is also very wise and smart. She has explored the corners of the universe seeing things not many have gotten the chance to or may not ever in their lifetimes. She has been to many different Universities all over the world getting different kinds of degrees. Seren feels that the more you know, the better and more aware you are of the world around you. Education is extremely important to her. Seren also is very protective and at times, courageous. It comes naturally to her since she has been protecting and creating stars for billions of years.

Seren is bigender but with she/her pronouns. She encompasses both femininity and masculinity in her identity. She is a representation of both male and female and she was created that way for a neutral purpose of balance in the universe, as she both serves for birth and protection which are feminine/masculine traits.

Some of the things that she doesn't like are loud noises and large crowds of people. Having been alone for so long and the silence of the universe for billions of years is almost maddening to some but Seren is used to the quiet. She enjoys spending time in nature and taking in the soft sounds of the world around her and not living in a bustling city with many people and unfamiliar noises.
[Any Unique Abilities/Skills]
Seren is responsible for birth, rebirth, protection, and creation of stars/constellations. She is able to form nebula nurseries where stars are born and created. When a star dies, she has the capability to make that star reborn again. Seren created the beautiful artworks of constellations in the night sky to express her creativity when she was bored. People have now made stories out of the constellations that she has made in many plots of mythologies and other cultures.

She also has psychic and healing abilities. With her psychic powers she is able to sense and predict danger coming. This has greatly benefitted her when it came to protecting stars from being attacked by dark forces. She can also modify memories with her psychic powers. She also has the power to heal. Seren not only can heal stars that have been greatly damaged, but she also possesses the power to heal humans as well that she discovered during her time on Earth. She would then modify their memories so they would forget of her power because she doesn't want to be exposed to humans of her gifts.

Another ability that Seren has is teleportation. She is able to teleport anywhere all over Earth or even return to space if she needs to. This has been super helpful for her to be able to live life on Earth while also keeping to her duties of the stars.


Seren Celeste was created 13.8 billion years ago when the universe was created. She was the first star in the universe to be created before transforming into a sailor guardian. Her soul purpose from then on was to be responsible for the creation of stars, the rebirth of fallen ones, protecting stars, and creating constellations in the sky. She began to create constellations out of boredom because she is very lonely and never really experienced contact with other sailor senshi or anyone in the universe for that matter. Her creativity has gone uncredited and turned into stories about god's and goddesses as well as mythological creatures. No one really knows that Seren even exists.

She came to discover the planet Earth and its wonder and beauty when she was given a new broach that was developed by a star, as a thank you for her work all of these years by the creator of the universe. Unknowing of the appreciation, an orb of light appeared before her and led her to Earth where she was in awe of the life that thrived on this planet like she has never seen before. She wanted to experience this for herself more than anything, to maybe even be around people who are just like her after being alone for so long. While on Earth she has finally been able to develop the life that she has always wanted while being a sailor guardian and being able to leave the Earth when needed to continue her work. 

Seren hopes that her life on Earth will help lead her to other sailor senshi, if any even exist like her, that she can associate with and befriend. From being alone for so long, she has become very shy towards others and even afraid. But she is still very independent in her own way and has been able to explore the world, getting University degrees from all over the world in Astrology and Astronomy. She finds some of the education amusing when it comes to star development, but it has given her the chance to learn about what is in this solar system and could be the key to finding other guardians who are just like her.
Known to hold many degrees in Astrology and Astronomy from a variety of different Universities that Seren has traveled to.
Senshi Information
[Senshi Name]
Sailor Nebula
Stars, Nebulas, Constellations, Universe.


[Henshin/Transformation Phrase]
Nebula Cosmic Power

When Sailor Nebula transforms, a nebula of small stars swirl around her body. As things on her body change such as shoes, tiara, clothing, etc. a bright, white light shimmers upon that area and when completed, bursts into little stars. Her transformation goes very quick.
[Senshi Fuku]
Uniform has a dark pink, purple, black, white, gold, and teal theme. She has a golden tiara with a star in the middle. She wears a black body suit with a dark purple overlay with feathered shoulders. She has a golden choker. In her hair she has feathered barrets. Her collar is a lighter purple and her bow is white and large. Her broach is a glistening star crystal. She has white, handless gloves with gold at the end. The top of her skirt is lined with white and a yellow gem in the middle. Her ruffled skirt has 3 layers of purple, teal, and a lighter purple. She has a giant white bow on her bustle that flows down. She also has black legging capris and black flats.
[Powers (Ranked from Difficulty/Strength)]
Seren has psychic, healing, and teleportation powers that are described more in her "abilities" section.
Her most basic attack is called, "Starlight Beam." This makes opponent fly backwards, stunned. The weakness is that this could easily be deflected by an object/counter power. The beam is a bright white with blue undertones to it.


Seren's next power is, "Nebula Cloud Blast." This power makes the area shrouded in a cloud of particles, an easy way to make a quick getaway in concealment. The weakness is that a blast of air can quickly remove the effect.


Her most powerful attack is, "Meteor Shower." This is an extremely rare and catastrophic attack and is almost never used unless in extreme dire situations where there is unstoppable danger. This attack sends down meteor particles from the sky, can be catastrophic. The weakness to counter this attack is a blast of fire to burn up the particles. 



[Weapons or Magical Items] 
A white and gold staff with a large star, wings, and scepter at the top. Her staff appears during her transformation and disappears when she is a civilian.

Seren's star and moon broach on her scarf gives her transformation abilities. Without this she is unable to transform and go back to being a civilian.
[Guardian]

A black cat named Nova. Nova was created from a star by Seren to keep her company since she was very lonely. Nova has a few special abilities such as teleportation and healing. She is always with Seren. Nova is able to speak and channel messages through thought. Her appearance consists of black, soft, fluffy fur, pointed ears and purple eyes. She has a star symbol on her forehead that symbolizes that she was created from a star.

She is a very calm and serene cat. Nova is also extremely intelligent and smart. She is always giving Seren advice from time to time. Nova doesn't have any friends other than Seren because she has always been accompanying her for so long. Nova is approximately around a million years old, so in regards to Seren's age she is fairly young.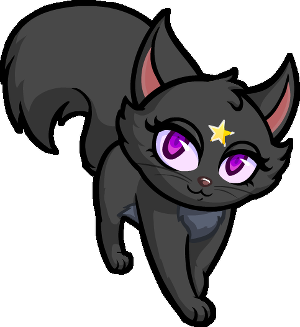 She opened her eyes and took in a deep breath: the vast universe was before her very eyes. Flying through space from nebula to nebula, helping carry out the creations of stars and delivering them to far distances throughout the universe. Sailor Nebula grasped the small orb of light in her hands. This one felt special to her and she couldn't figure out why. She held it closely to her chest, and her body absorbed it, creating the star crystal broach on her bow that once was a small orb. She then began to hear the sounds of whispers surrounding her.


"Thank you," the voice said.


Sailor Nebula quickly looked around her trying to figure out where the voice came from. She looked down to her new broach in awe. She lightly touched it and it shined bright like a star. Her body began to feel warm, like she wasn't alone. She has been alone for millions of years and this feeling was brand new to her but it made her feel happy. All she was left to wonder was who was the voice? 


Looking up she noticed a beautiful planet with grand oceans and land that she has never seen before in all of her years, thriving with life. This intrigued her. She began to move closer and closer and the planet got bigger as she moved forward. Before she knew it she fell through the atmospheric layer and gravity took over, her body falling faster and faster towards the surface. She quickly grasped her staff and pointed it towards the ground where it helped cushion her landing to help her speed falling dramatically decrease. Her feet lightly touched the ground and she could feel the breeze ruffle through her hair. It felt so refreshing, a sensation she has never experienced before.


"So this is Earth," she muttered to herself.


She landed on the islands of Hawaii with the ocean rolling up against her feet on the shoreline. She bent down to touch the soft sand and it fell right through her fingers. Sailor Nova looked up at the dark night sky and for the first time was able to see her constellations that she created from Earth. She was breathtakenly in awe and never realized how truly beautiful they were. Suddenly, there was a shimmer and pop noise and her cat, Nova, appeared right beside her in the water. Nova gave a look of shock, disappointment, and annoyance as the water touched her paws. She quickly ran inland and began to shake her paws and lick them feverishly before realizing the sand was sticking to her paws now too.


"What is this?!" Nova exclaimed, now laying on her back with her paws stuck up because she doesn't want anything more to stick to her.


Sailor Nebula chuckled and walked over to her feline companion and scooped her up from the ground into her arms. She wiped her paws off for her with the fabric of her skirt and smiled. Nova, however still wasn't looking pleased. Sailor Nebula set her back down on the ground and looked back out towards the ocean and sky. Nova then too looked up in awe of this planet that she followed her to. Sailor Nebula lightly touched her broach and closed her eyes as a shower of stars fell over her and transformed her into civilian clothing. It was time for her new adventure to begin.