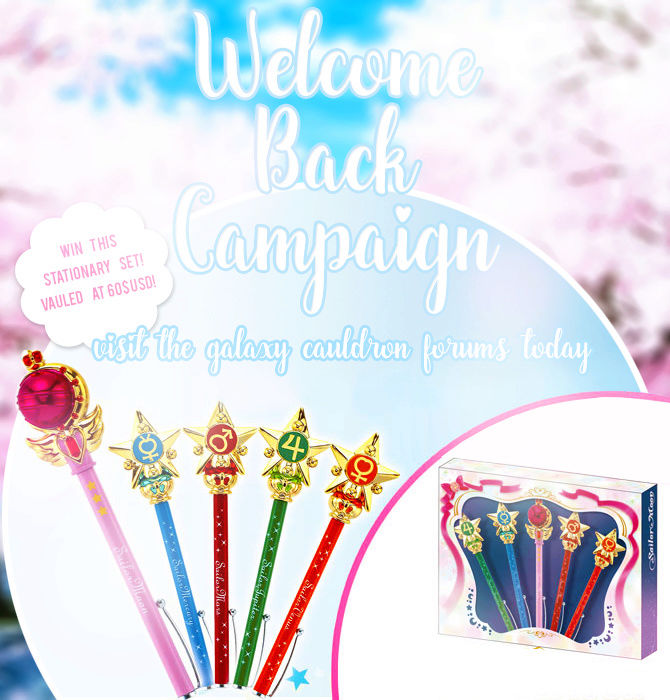 WELCOME BACK!
 The Galaxy Cauldron Forums is welcoming returning members to the forums with a special giveaway!
For members who have not visited the site since July 31st 2017 you are eligible for this Stationary Set of Ball Point Pen & Pointers.
This is valued at 60$ USD. Shipping in the US is free and international shipping can be discussed.*

This event runs from August 29th through November 30th.
To be entered, you must count as "active". 
Admin will determine what counts as "active", mainly using posts, topics created, and participation in events.
You can be counted as Active at any point throughout the event. 
So if you can't join in posting in September, then you can do so in October or November. We will send out several reminders.
The number of entries you earn will be based on rank!
Star Seed Members will earn 1 entry
Pyramidal Members will earn 2 entries
Lotus Members will earn 3 entries
NOTE: Your entries will be based on your rank at the END of this campaign. 
That means if you want to work on gaining ranks you can earn more entries!!!
Read more here: https://www.thegalaxycauldronforums.com/t2214-the-what-why-and-how-of-gc-ranks
You can earn a BONUS entry for every game or RP you actively participate in. 
Game hosts and RP staff will report winners/participants.
*In the case of this item not being available with our retailer a prize of similar value (60$usd)
 will be offered in it's place to the winner.
If you are returning, please post below, a simple hello/hi/emote/image/ etc will work!