Sailor Yellow Sky: CivilianReal Name:
 Jeanna D'Trelli
Birth Date:
 March 29, 2482 (Sol-Aires)
Species:
 Human-analogous (Mermaid)
Homeworld:
 Yellow Sky orbits the star Tychus. Due to a series of impacts that were prooobably meteors, Yellow Sky has two biospheres: its high plateaus are an oxygen-based environment where humans and similar species can live, while its hot, wet, lowland swamps are home to chlorine-breathing lifeforms, breathing caustic air that will kill human beings. 
It was colonized by the peaceful Orlamu Theocracy  (who seek to understand the nature of the Divine through scientific research) and established the city of Mount Illumination in 2346. But in 2369 -- during the Second Great Sailor War -- the Orlamu world that launched the expedition was scourged, and the colonists were stranded with no FTL communications, no spacedock, and no industrialized manufacturing or resource extraction. Their knowledge was from the Gravity Age, but aside from preserving what they already had brought with them, their technology was regressed to the Age of Reason.
Combustion is impossible in Yellow Sky's chlorine-based environment, so no species could have discovered or used fire there. Yet, the swamps are littered with ruins of an incalculably advanced, incalculably ancient starfaring species known as the "Stoneburners". From them, emerge shambling youma-form creatures known as the Untouched Ones. 
How did they know to call them that?
Appearance:
 Jeanna is well-tanned and well-muscled from lots of field work at a farm, and about 162 cm high. Her dark aquamarine hair goes down to the middle of her back when it's not done up in a ponytail. Her blue eyes usually aren't haunted, they're usually bright and charming... but there are always deep, dark circles under them.
On Yellow Sky, she wore one of two sets of coarse, itchy, undyed tunics and leggings, the kind made by people who landed on a planet with lots of technical documentation but not a lot of records on "how to operate a shuttle loom effectively". After the colony was rescued and she got some wealth, she got herself a huge wardrobe of outfits in varying levels of formality; even her green T-shirts and blue jeans she wears most of the time are custom-tailored and nothing that touches her skin
ever
 has a thread count below 1000. She tries not to have a big head about things, but there are rules, come on.
Once exposed to current technology again, she's also found with an earbud in her left hear at all times, as civilian and Senshi. If you were to pull it out, you'd hear a metronome ticking at
exactly
 108bpm, and she'd claw your face off to get it back. 
History
: Jeanna was reincarnated, from a backup singer to a 22nd century pop star that died tragically young in a boating accident. She didn't think her distant memories of fame and stardom and performance would ever be relevant; she was a farmer, her parents were farmers, eking out enough to keep Mount Illumination alive. She went to school. She learned state of the art (for the 23rd century) computer interfaces on printed parchment, and how to perform FTL navigation calculations with slate and chalk. She learned archery, as the number of functional guns in the settlement was getting smaller and smaller.
And there were only 13 environmental suits left. One of which was sized for a young girl of her proportions. They couldn't afford to let it go unused. Because the settlement needed her, because she ignored her own fears, she suited up, loaded in an air canister that had been filled by a wooden hand-cranked device, grabbed her bow and arrow, and descended with the expeditions into the chlorine swamps, hunting for deposits of precious iron and animals with hides thick enough to bear useful leather. It was hot. Miserable. Her lungs burned. She was drowning in her own sweat. But she bore on, because people needed her to be brave. They even listened to her sing sometimes, to make her feel more valued back at the camp, but she'd never had any coaching and wasn't any good.
One day, they strayed too close to a Stoneburner ruin, and the Untouched Ones were upon them. She was closest to the edge, so she tried to sacrifice herself so others could get away safely. She couldn't tell if it worked -- she couldn't see, couldn't hear. Their spindly claw fingers rent her body. Her breathing line was severed, and she rapidly choked to death in the toxic atmosphere.
11 hours later, she came to, breathing unimpeded, as Sailor Yellow Sky. Around her were 11 corpses of the Untouched Ones, arrayed in a circle.
All dead by their own hands.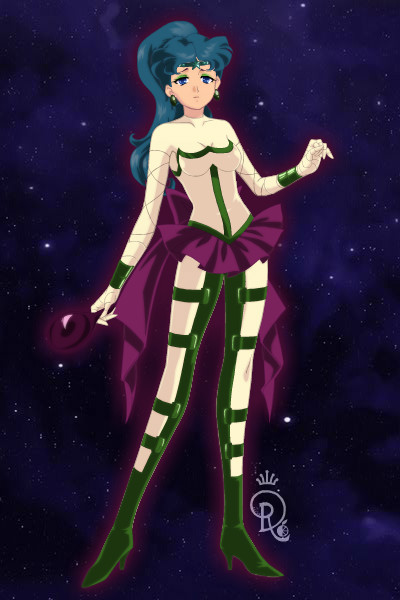 Sailor Yellow Sky: Sailor GuardianOrigin:
 Jeanna is not the first to hold the title of Sailor Yellow Sky... or at least, let's say, not the first to be Sailor Guardian of this planet. She surmises that the previous title holder was one of the Stoneburners, who lived millions upon millions of years ago, and left her the title, the powers, and the profane alien relic/guardian that screams at her in a language she can't possibly understand and protects her by injuring her friends. 
How long ago did the Stoneburners die out, do we think?
And how long ago did Sailor Galaxia seal away Chaos?
And
how come this Sailor Guardian outfit doesn't have a Sailor collar?
Transformation:
 "Atlach a natai. Aatal oorn. Ab a dhuttai om!"
Sailor Yellow Sky's outfit resembles the environmental suit she used to stay alive on her terrifying expeditions into her planet's corrosive lowlands. It covers everything below her neck in a pale off-yellow, with a dark burgundy skirt and back ribbon, and dark green highlights and piping. Her wrist adornments are shackles; anyone else who touches them finds them unbearably heavy, but she can't imagine not having to bear them. As alluded above, she has no Sailor collar of any kind. While transformed, she can survive in absolutely any environment regardless of heat, pressure, chemical composition, radiation... but she still
feels
 its effects on her body, even if they cause no damage and don't really happen. 
Attacks and Powers:
 Sailor Yellow Sky's element is
corrosion
. Form and space break down. Boundaries erode, and definition melts. Nothing can be kept out because there is no out or in any more. She corrodes the boundaries of space and distance, she corrodes stone and flesh, wearing all away into a singular point of nothing, just as her fellow colonists' needs wore away any boundary she could claim around herself. 
"Atlach a natai. Abhai a shudde." Sailor Yellow Sky conjures fistfuls of horribly caustic acid. Due to the possibility of awfully maiming people, she never uses this with others around, or on living opponents. She uses it to melt materiel, terrain, obstacles and walls, etc.
"
Warp
." Sailor Yellow Sky bends space. This point and that point become adjacent, regardless of distance in between. There are plenty of tricks to be pulled by sending sound and energy and devices through warped space, or bending the geography of a location past sanity, but she never allows any other living being to cross warped space as a "portal" -- when she does it, she's always incapacitated by weeping and vomiting blood.
As an antagonist, her ability to warp space is far more pervasive and subtle, but she retains the restriction on "teleporting" living things.
Special Items
: Sailor Yellow Sky has two of these, to her chagrin. The first is her Stellar Bow, a compound bow engraved with star-pattern designs from her personal notebook. The system of cams and pulleys allows her to put on a draw weight that matches her heroic strength; it's made out of cutting-edge alloys and polymers that don't actually exist, but she imagined would exist by the time she was rescued. It is her primary means of attack (since she can warp arrows to their destination as long as they stay in line of sight), comes with an 8x scope, and fires arrows that pierce, explode, or leave clouds of corrosive gas to melt through force fields and magical protection. It appears to have nothing to do with the Stoneburners.
The second doesn't have a name that she can pronounce. It's a spherical cube -- a cubic sphere -- of weeping magenta stone that hovers around her and only she can see or hear. It screams at her in a language nobody has spoken in millions of years, especially to wake her up, or tell her to do things. She has no idea what it wants. She wants to keep it that way. Any time she's injured, the stone strikes someone nearby with red lightning, healing her and wracking them with pain and injury. The lightning only hits enemies if it can't hit an innocent bystander, and only hits innocent bystanders if it can't hit a friend. It does this if she squishes her thumb in a cabinet door, or drops something on her foot. She'd much prefer if it went away, please. 
Mission:
 Mount Illumination needed her. How could she say no? Once she became Sailor Yellow Sky, she was there for every expedition into the lowlands. And then, well, she was so much safer, she was at so much less risk than everyone else because her air supply couldn't be ruptured and her suit couldn't be corroded... can't she just go down alone, and protect everyone else by completing the missions solo? Mount Illumination needed her, so that was what she did.
And now that she's going out on expeditions solo, isn't it an amazing opportunity to map the Stoneburner ruins in a way that nobody else can? Sure, it's frightening, but she is courageous, and she's willing to step up for the sake of advancing human knowledge, right? So she spent less and less of her time hunting slow beasts with inefficient chlorine-based metabolisms, and more in the weeping stone ruins, gathering up relics, trying to snipe down the vulnerable bulbous eyeballs of the Untouched Ones before they came at her as a blizzard of impossibly thin fingers. It was impossible to map the ruins, of course. Every one had a totally different layout every time she entered. Three rights didn't make a left. The horrid laboratory-tombs were filled with impossible, non-Euclidean geometry that hurt her head to try and understand. A horrible droning came from inside her ears. Bas-reliefs seemed to depict hundreds of scenes of her being mutilated and killed, annotated in perfect modern French. It all went deeper. Everything went deeper, deeper than she could go, deeper than she could fathom. Why were there hallways, but never rooms? Why were there rooms, but never hallways?
Sailor Yellow Sky didn't originally have the power to warp space, until she'd been to the ruins. Is that even one of her powers? Or is it something Jeanna has seen about the world, and can't unsee?
But she kept going. She beheld more and more impossible things, things Man was not meant to know, things she could not understand beyond knowing she never should. Because people needed her to. Because she was protecting others from enduring this peril. Because she was brave. 
Mount Illumination did their best to keep her spirits up, and she did her best to keep her spirits looking up. They christened her "Sailor Discovery", an Orlamist saint of courage and inquiry. There was a feast day every week in her honor. She liked those. There were lots of people there to talk to and that meant she wasn't alone with her own thoughts. She sang terribly, and people politely clapped. 
In 2497, the Orion Arm re-established contact with the frontier, and the colony of Yellow Sky was rediscovered. The Theocracy swooped in with much needed medicine and clothing and armaments and modern supplies. Her expeditions continued, under closer scientific guidance, for about a year and a half, deeper and longer than she ever wants to talk about.
Her name and likeness as "Sailor Discovery" were marketed as a character in educational children's programming, with tales of her courage and heroism that had been "massaged" to make them more palatable to audiences back home. She didn't actually get a huge cut of the royalties, and Sailor Discovery isn't a massive well-known household name, but a small cut of a minor character going out to an audience of 745 billion is still a very decent chunk of change, and Sailor Discovery got herself rich. She didn't walk out on her duties, until someone suggested she could -- then she was gone before that sentence finished echoing in the air. She became a free agent, fighting what evils she could find when she could find them, in nice normal happy predictable Euclidean space against things that had a consistent number of limbs and experienced time in an orderly, coherent fashion. 
Joining up with the Verge Senshi was a no-brainer, they provided emotional and tactical support and if she wasn't the only one around who did Senshi things she wouldn't be pushed into doing everything. Sailor Lison is a great help in particular, because she doesn't mind being asked a lot of questions like "how many people are in the room with us?" and "do the angles of this triangle still add up to 180 degrees?" and "Is e still less than pi?", without trying to draw conclusions about what is going on in her head based on the questions.
Personality:
 Jeanna is outgoing, friendly, gregarious, giving, courageous, self-sacrificing, and clearly about 5 millimeters from
losing her goddamned mind
 at any given moment. She loved being around other people, and that's even better because now being around other people means not being alone with her thoughts! She pushes for lots of time together, lots of talking, or playing lots of games, or watching lots of movies -- lots of TOGETHER TIME. She can seem normal in short bursts, when you don't have enough time to see the patterns, and she just seems outgoing. But the longer you're with her, the more likely you are to notice how much she laughs at inappropriate things, how random words startle her like gunshots, how she keeps looking behind her like she thinks something is in the room with her. She's terrified of being alone. She's terrified of what will be there with her when she is. 
She's always jumping into danger (she can't refuse it) and trying to solve other people's problems (if she solves someone else's problems she doesn't have her own). She's proactive and forward looking. Extremely forward looking, lots of forward momentum, because if she stops moving forward she collapses. She has seen Things Man Was Not Meant To Know. Her courage has almost destroyed her by exposing her again and again to mind-shattering sights, taking on the most awful burdens and obligations of everyone. If her awful experience allows her to help someone, she has to do it... because if she doesn't, someone else might have to see those things, and that's something she can't let them do.
She's not comfortable with most modern technology (it's 150 years past what she learned about) and prefers other people do computer things for her. She does all her FTL navigation calculations by hand, on paper. They get the ship to its destination much faster than the laws of physics allow. Only Sailor Lison is allowed to input them, because she's the only one who is able to conclusively delete information she's seen from her own memory, and nobody else is even allowed to look at them.
Battle:
 Sailor Yellow Sky is a sniper, dealing precision damage to high-value targets from extreme range, using her space-warping powers to extend the range of her arrows. Corrosive clouds restrict her opponents' movement, and deal devastating damage to those who can't move away from them. She's most effective alone, but she
needs
 to be in contact with others or she'll lose it. Her floating cube-orb has nothing to do with how she uses her powers, provides no benefit she cares about, and she'd rather be rid of it, but nonetheless it means that her being close to her allies while enemies are near endangers them. Being close to others hurts them, because of course it does. If she's outnumbered or caught with an ally, she has to escape through a hole in space, which will incapacitate her and take her out of the fight. If her allies are in danger and sniping off attackers isn't a viable course of action, she's going to have to do something dangerous to save them.
RP Samples:
Meeting a fan!:
On a mission with the crew!:
Antagonist: Battle!: