Senshi Sailor Betelgeuse

Character Information
Name:
Kallisto
Astrada
– Kallisto meaning "beautiful" and Astrada derives from the Latin word "astra" which means "stars".
Age and Date of Birth:
She is 20 years of age. Her birthdate is June 21st, the day of the summer solstice. The year was 1993.
Gender:
Female
Race:
Human – Greek ancestry.
Birthplace:
Athens, Greece.
Appearance:
Kallisto is tall and slender. She has platinum blonde, almost white, hair and pale blue/grey eyes that appear cold and devoid of emotion. Her face is sharp and defined and she has been told many times that she could be in the modeling business. Despite her pale attributes she tans quite well and has beautiful caramel skin that is smooth to the touch. She has many scars that decorate her skin but she keeps them well hidden. The majority of her height (all 5'10'' of her), comes from her legs.
Skills/Abilities:
The one thing people constantly notice about Kallisto is her grace. With her long limbs and seemingly flawless attributes she moves in a way that resembles the slow movement of stars around a galactic field.
Personality:
Even though Kallisto's exterior may seem perfect and poised, her interior monologue is that of a girl struggling to keep herself together. Kallisto battles with panic attacks and social anxiety that centers around other people. Usually she can keep it to herself and keep her exterior mask calm, cool, and collected. But when she is alone she tends to let her walls come down in exhaustion and the more panic-prone and nervous side of her comes to light.
Because of her need to keep up an exterior wall, Kallisto comes off as cold and devoid of emotion to others. In reality she can be a very kind and sweet person, she just can't show it to others without breaking down in nerves.
Biography/History:
Kallisto was born a native to Greece, just outside Athens. She grew up in a happy environment for the time her parents were alive. They moved with her to the United States at the age of 5.
Kallisto's parents died the same year they moved. Because of their unfamiliarity with driving in the United States they were unaware that sometimes big rig trucks can come around corners at blazing speeds. They hit a logging truck while zooming through the Washington forests on their way to pick up Kallisto. Both died on impact. After her parents death she went through several foster homes but never settled with anyone because of her growingly distant personality. She felt lost without her parents and never found anyone she felt comfortable talking with. So she kept to herself. After years of moving through families that tried to understand her she found it easier to stay silent and look after herself.  18 years later she was let go to the world.
Upon her 18th birthday she was contacted by her parent's previous lawyer and was given her inheritance. It proved to be a large sum of money and assets, more than enough to get her on her feet and take care of her for the foreseeable future. She always looked back on this day with fondness. Her parents had always known how to take care of her.
When she received the other items she had inherited, she found out about her parent's devotion to Ancient Greek Myth. They practiced the religion faithfully and they had both apparently found it on their own before meeting each other.
She looked into the religion but never was as devoted to it as her parents seemed to be.
She started college, not really knowing what subject she wanted to major in. She dabbled in various topics until she found her true calling, Astronomy. She found in herself a deep passion for the stars and the meanings behind them and began to devote her time and effort to the night sky.
On one night, while watching one of the most beautiful meteor showers she had ever witnessed, something fell from the sky onto the ground in front of her.
It was little silver star, akin to an asterisk. It was warm to the touch and seemed to be glowing just a bit. A gut feeling had told her to keep it and she had it added to one of her bracelets, a silver one that wrapped around her wrist in spirals.
It was this little star that changed her life, for it turned out to be her Henshin Item.
Senshi Information
Senshi/Sailor Name and Title
: Sailor Betelgeuse
Realm of Influence(s):
Cosmological Anomalies, such as black holes, supernovas, neutron stars, pulsars, quasars, and other deep space occurrences.
Symbol:
  This is the symbol Teth which means "wheel". This relates towards the saying "the great wheel of the universe".
Item(s):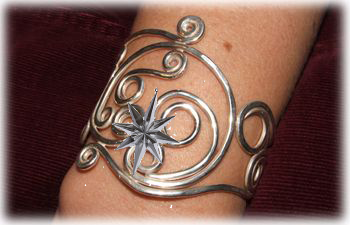 This is her transformation item. The little star found on the bracelet is the one that fell from the sky.
Attack Stars: Another item she has are her Attack Stars. She holds her hand above her Henshin Star and an Attack Star appears for her. She uses these in some of her attacks, or she can use them as normal throwing stars like what Ninja's use.
Henshin/Transformation:
Betelgeuse Star Power, Make Up!  Kallisto calls this out and a swirl of stars come from the sky, twirl around her at high speeds, contract around her and explode, kind of like a supernova. After the light dies down a colorful gaseous mist surrounds a silhouette and Sailor Betelgeuse steps forward.
Outfit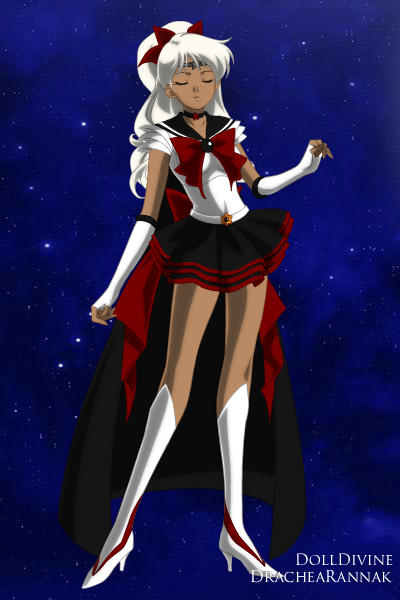 Her fuku colors are white, black, and a deep red. The main part and supporter is white with a black collar and a black skirt. The collar has one white stripe and the skirt is layered 3 times, which each layer ending in a deep red stripe. Both her chest bow and back bow are red, and she had a red bow holding up part of her hair in a ponytail while the rest falls loose. Her boots are white with a red stripe down the middle. Her gloves are white and finger-less, and they end in a black stripe right under her elbow. She also has 3 layers of white fabric coming off her main torso section at her shoulders. Her necklace is black with a red star and her tiara is a straight silver band around her head with a silver star in the center. Her chest brooch is straight black and she had a little golden star with a black center under her belly button at the top of her skirt. The whole outfit is finished off with a black cape that comes out from under her collar.
Attacks:


Absolute Zero Freeze! – This is a base attack for Betelgeuse. She shouts the words and throws her hands out in front of her and a very light mist bursts forth and encases her target. The attack immobilizes them as if they were frozen but there is no ice apparent around them.

Black Hole Gravity Effect! – This is another immobilizing attack. Betelgeuse holds her hands out in front of her and shouts these words. A black mass of energy forms and is hurtled toward her target. When it reaches them, they are thrown to the ground and held there by an immense amount of gravity.

Pulsar Rumble! – This is one of her stronger attacks. Reaching into the sky she pulls vibrating air from the sky, curls it into a ball, and throws it at her target. The vibrations from attack tears her target to shreds. It also makes a cool sound like this: http://www.youtube.com/watch?v=HSyRMotOhoM

Galactic Explosion! – This is her strongest attack. If the power from this attack were to escape her control, it could easily blow Earth to bits. This attack harnesses the explosive force of a supernova, and applies it to her target. She must use all her focus and control when using this, because she has to summon the power within herself. Standing still with her eyes closed, she summons the magic of the attack from inside her soul. To the outside eye, one can see that she begins to glow with a white light as the attack grows in power. Once she has the power in her grasp, using all her might she sends the magic towards her desired target. The energy explodes from her chest in a giant beam of white light, straight at her target, and it incinerates them.

RP Sample:
 Kallisto was running. Around her other people were running as well, and from the same thing. A horrid beast was chasing people through the streets, tearing apart everything in its path. It was obvious that the thing was alien, for Kallisto had never seen anything like it before.
Her breath was heavy from running and in her panic it took her a while to notice the burning on her arm. Running behind a corner to catch her breath she looked down and gasped. The little star she had found last week was glowing! It was tingling against her arm and shining with a bright white light.
She felt something growing inside her. She had felt it before when she had been running, but now it was more noticeable. Something powerful and warm was growing in her chest at a seemingly same pace as the glowing of her star charm.
There were words on her tongue. Words she didn't know, but felt she was born to say. Words that told her of a future she had never imagined in her wildest dreams. Words that told her she was born to fight things like what she had been running from.
And she couldn't hold these words inside herself anymore.
"Betelgeuse Star Power, MAKE UP!"
In a burst of stars and light she exploded with power and she felt her body and spirit change. She felt stronger and faster and her mind worked quicker and was more cunning. When she opened her eyes the world looked completely new to her and she felt like she was finally seeing. Looking down at her new outfit a small smile came to her lips. This felt RIGHT.
Coming out from around the corner, she put her fingers to her mouth and blew the loudest whistle she could manage, obtaining the attention of the horrible looking beast.
Staging herself for battle she held her hands out and smirked as the beast roared with rage and began charging her.
This was gonna be interesting.
EDIT: Alright changes have been made! She's ready! ^^