Character Name: Ami Mizuno
Gender: Female
Age: 17
Character Image: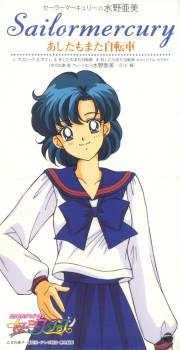 Storyline Specific Information:
Ghost Planets-None so far.
Additional Information: Ami Mizuno
 started out as an introverted loner at first, being shunned by the other kids for her higher than average intellect. She's become more comfortable around people after making friends with Usagi and the other senshi. She may come off as aloof and even cold to strangers, but cares deeply for people and enjoys helping them, wanting to become a doctor like her mother someday. Ami isn't inclined to fighting or arguing with people, but she does have a strong set of morals, to the point of being near merciless on enemies that are without them. She likes reading a myriad of books and being intellectually challenged, and has a slight competitive streak when it comes to. She has no immediate interest in a love life though, and ends up embarrassed if the subject is forced onto her.
RP Sample: 
here:
Senshi Name: Sailor Mercury
Senshi Fuku:
Powers and Magical Items:
 Please include the name of the attack, a description of how the attack looks when performed, and the effects of the attack. 
Bubble Spray: Sailor Mercury creates a ball of blue energy between her hands and spreads them, releasing a wave of bubbles. It creates a cold mist that blinds and stuns enemies.
Bubble Spray Freezing: The same as above, except it temporarily freezes the enemy it hits.
Shine Aqua Illusion: Sailor Mercury brings her hands to her chest and spins around, gathering droplets of water. She holds her hands up and throws a mass of water in a column at the enemy. It has a freezing effect when it hits.
Mercury Aqua Mirage: Sailor Mercury forms a concentrated ball of water and throw it at her feet. It bursts into spinning tendrils around her before she launches it. The tendrils follow after and wrap the enemy in a bubble before crushing them and leaving them coated in ice.
Mercury Aqua Rhapsody: Sailor Mercury holds out a hand and her harp appears in it. She strums the strings and a geyser of water is formed and fired at the enemy.
Mercury Transformation Pen
◊
- Used to transform into Sailor Mercury
Mercury Computer
◊
- A high-tech futuristic hand held computer that can store massive amounts of data and perform complex mathematics and scientific tests based on collected info. Works in conjunction with her visor.
Visor
◊
-A blue visor that slides out over her eyes at the press of her earring. It can scan areas, objects, and people to glean helpful information on them. Sensitive to energy readings in particular.
Mercury Harp
◊
- A light blue lyre she plays to use her Mercury Aqua Rhapsody attack.