Well hey there y'all! Welcome to my home way down here in the south, a state full of wonderful food, culture, and friendly folks. Many of you most likely automatically think of a few things when Louisiana comes to mind: New Orleans, Mardi Gras, Saints, and LSU.  Why yes, those things are a big part of the state, but that's not all!  Louisiana is filled with a rich history (having been founded by the French, ruled by the Spanish, and eventually bought by the United States) and a culture that loves to find an excuse to party and have a good time.
Our State Flag with the State Bird and Motto on it.
Here are some basic facts of Louisiana:


Official Languages are English and French (yes, French).

State Nicknames are Bayou State, Child of the Mississippi, Creole State, Pelican State, Sportsman's Paradise, and the Sugar State.

The state bird is the Pelican.

Our motto is [i]Union, Justice and Confidence/i].

The state Capital is Baton Rouge

The Largest City and Metro area is New Orleans

The highest point is Driskill Mountain (yes we do have one mountain) at 535 ft (163m) above sea level, while our lowest point is -8 ft (-2.5m) below sea level (which is New Orleans).

We were admitted into the union on April 30th, 1812.

We are the only state to call our counties "Parishes".

Must of the state's lands were formed by sediment that settled from the Mississippi River, giving to much marshland, swampland, and water ways. All this marsh, swampland, and waterways are the main reason the state is called the "Sportsman's Paradise".  The state is essentially geographically divided into two parts, the uplands of the North and the Allunvial that lies mostly along the Mississippi River and along the Gulf of Mexico. The northern part consists of higher and continguous hill lands,mainly of prairie and woodlands.
Louisiana Swamp.
Friendly Gator says "hi".
Louisiana Marshland.
The alluvial is mostly low swamp lands, marshlands, beaches, and barrier islands that cover about 20,000 square miles (52,0000 square km). The sourthern coast and wetlands is among the fastest-disappearing areas in the world.  This is largely due to human mismanagement of the coast, due to human controlling the Mississippi River's flow, and Hurricanes. It no longer floods the lands and add sediment to build the land up due to man-made levees (meant to protect people from being flooded. Its a double eged sword really).  There is a big "Save the Wetlands" movement down here.
Our climate is considered a humid subtropical climate. So basically, its hot and humid during the summer and cold and humid during the winter. Winters are generally mild with snow and ice being a rarity (with the exception of this years crazy Polar Vortex the US experienced). We have lots of rain throughout the year though it seems we have more during the spring and summer. We are also often affected by Hurricans (also known as tropical cyclones, typhoons, tropical storms, etc.)  The most famous and nationally covered hurricane in recent history would be Hurricane Katrina, which struck land on August 29th, 2005.  Katrina caused massive flooding in New Orleans (80% of the city of inundated) and southern regions of the state, along with wind damage and loss of life (more than 1500 fatalities resulted in Louisiana alone). The last most damaging hurricanes had been Hurricane Betsy in 1965 (being the first in history to cause one billion dollars in damage) and Hurricane Audrey in 1957 which killed over 300 people.
As mentioned before, Louisiana is considered the "Sportsman's Paradiese". There is plenty of outdoors activities to do from camping to hiking to boating (including water skiing and other sports, canoeing, and kayaking), plenty of hunting and fishing (ranging from deer to ducks and freshwater to saltwater), and just lots of natural sight seeing. There are several state parks, Historic Sites, and Preservation Areas.  You can spend a day sighting seeing in just a 1 hour driving radius within the state (I've done it lol).  The state is also big into sports like football and we have many die hard fans of our college teams (the big one being LSU with ULL, Tulane, and a few others behind it) and New Orleans Saints. Football is pretty huge here but I'm not really one for it. xD
We are also home to many many MANY festivals. You can find a fesitval somewhere every weekend. Some of the more famous ones being Jazz Fest, Mardi Gras, and Essence Fest. Other big ones are the Ponchatoula Strawberry Festival, Louisiana Seafood festival, Breau Bridge Crawfish Festival, Crowley's International Rice Festival, along with tons of annual crawfish boils, cook offs, and other celebrations.
A Small Bit of History:
Louisina was originally inhabitied by Native Americans long before Europeans arrived in the 16th century. The state has more Native American tribes than any other southern state, including (currently) four federally recognized tribes, 10 state recognized, and four tribes that have yet to receive recognition. Many of our names for rivers, parishes, cities, and street names come from the Native American tribes. Examples being the Tchefuncte River, Mississippi River, Plaquemine Parish, Atchafalaya, Natchitoches, Houma, and Avoyelles Parish.
Even though the French were the first Europeans to make settlements in Lousiana, it was actually a Spanish expedition led by Panfilo de Narvaez that were the first explorers to visit the region in 1528.  It was in the late 17th Century, that French and French Canadian expeditions established its first settlements and foothold in the area.  In 1682, the French explorer Robert Cavelier de la Salle gave the region its current name, to honor France's King Louis XIV.  The first permanent settlement was Fort Maurepas (which is now Ocean Springs, Mississippi).  The original French colony claimed the land on both sides of the Mississippi River and north all the way to the French Territory in Canada.
Mississippi, Arkansas, Oklahoma, Missouri, Kansas, Nebraska, Iowa, Illinois, Indiana, Michigan, Wisconsin, Minnesota, North Dakota, and South Dakota were all originally a part of Louisiana.
Many land owners became rich off the land and owned large plantation where they could farm and export their produce. Plantation historically litter the state and can be seen as historic sites.
Eventually Franch ceded most of its territory to Great Britain after the Seven Years' War or French and Indian War (as it is known in North America).  It only retained the area around New Orleans and the parishes around Lake Ponchartrain.  The rest became a colony of Spain.
It was during this time that several thousand French-speaking refugees from the Acadia region of Canada (now Nova Scotia, New Brunswick, and Prince Edward Island) made their way to Louisiana after been expelled by the British in 1765. These Acadian refugees are the ancestors of what we now call "Cajuns".
Eventually the area was purchased by the United States in a purchase famously known as the "Louisiana Purchase" in 1803, with Louisiana becoming a state later in 1812.
The Louisiana Purchase.
As a last tidbit, you will also see the word Creole thrown around. Creole describes the population of people who were born to settlers in French colonial Louisiana, specifically New Orleans. These people consist of descendants of the French and Spanish upper classh. Eventually, the term came to include native-born slaves of African decent as well as free people of color. Typically "French Creole" described someone of European ancestry and the term "Louisiana Creole" described someone of mixed racial ancestry.
I will end our history lesson there cause I'm sure I'm boring you by now.  I bet you all are really here for the good stuff... and thats
FOOD and BOOZE!
Due to our mix of Creole and Cajun culture, we have a wonderful selection of dishes you can only really find here in Louisiana. All with a ranged influences of French, Spanish, African, and Indian cooking.  Most of our famous dishes are Gumbo, Étouffée (pronounced "Ay-Too-Fay"), Jambalaya, Muffuletta, Po'boys, and Red Beans and Rice. Seafood is a staple of our diet and we eat things from shrimp to crayfish (crawfish), crabs, oysters, and catfish. Also we each swamp denizens such as alligator, frog legs, and turtle soup.  I can say that I have had alligator and its very good. I have not had the chance to try frog legs or turtle soup though. :(We are also famous for several tempting sweets such as King Cake, beignets, Pralines, Sweet Potato pie, and Pecan Pie.
We also LOVE to drink down here and the state is home to many local breweries, the most famous possibly being Abita Beer (which is really close to my home town!). Also many old folks around here make their own alcoholic concoctions (my dad makes something he calls "Clark's Cherry Bounce").  Also we have famous drinks such as daiquiris, with this being the only state that has drive throughs to get them, Bloody Marys (which are ick to me), the Sazerac (considered Americas first cocktail. I have never had that either), and Hurricanes (which has been made famous by Pat O'Brien's).  We love our alcohol so much and food that I've seen King Cake flavored Vodka (I have yet to have it tho xD).
Chicken and Sausage Gumbo
Seafood Etouffee over Rice.
Chicken and Sausage Jambalaya.
Red beans and rice (best with some sausage and corn bread!)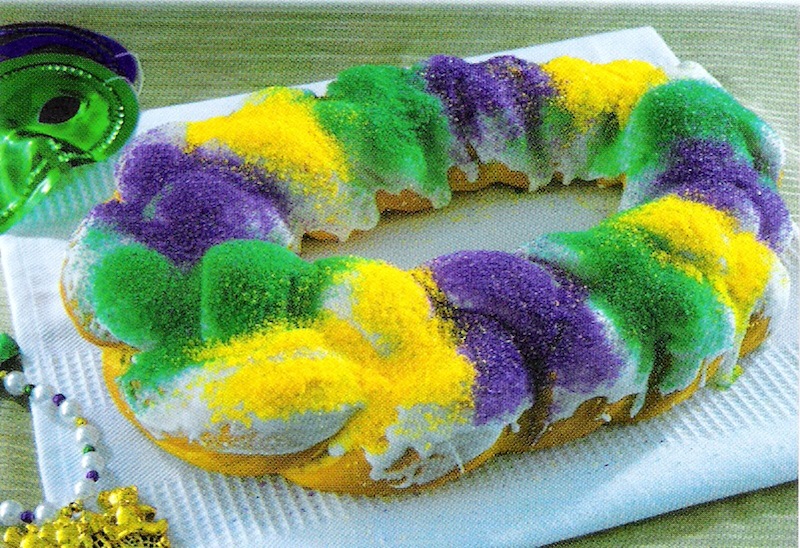 KING CAKE!!
Think of it like a giant cinnamon roll that with lots of icing and colored sugar and optional fillings.
Nothing beats waking up from a night of drinking in New Orleans and getting beignets and coffee from Cafe Du Monde.
Some of the best coffee around!
Pralines aka candied pecan heaven melting in your mouth.
Only the best pie ever.
This is also the best pie ever.
I will be going into further detail in a Louisiana Food Appreciation thread.

 And that about wraps up this thread. If you have any questions about my state and any off customs or wants to learn more about stuff I didn't cover in detail feel free to ask away!
Take you a fancy bumper made by Sailor Mercury:
Thread info credits go to:
[You must be registered and logged in to see this link.]
[You must be registered and logged in to see this link.]
[You must be registered and logged in to see this link.]