SAILOR CJ TACKLES THE GRAND LIST.
1. Usagi Tsukino (Sailor Moon)
Usagi tends to be my set base line for a magical girl. She's pure of heart, is friendly and desires love and justice above all else.
2. Sakura Kinomoto (Cardcaptor Sakura)
Sakura's fantastic. Cardcaptor Sakura has its problems as a series, but none of them can be attributed to its title character. Not only is Sakura kind and likeable, but she has to problem solve to win her battles. She doesn't just fire a magic laser and win. She has to think things through.
3. Amu Hinamori (Shugo Chara)
Here comes the first one I don't know. Let's just look at her character design.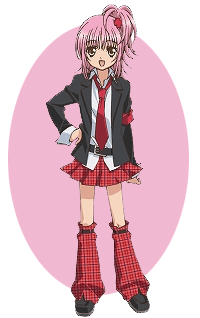 SHE IS THE SAVIOR OF PLAID.
4. Madoka Kaname (Puella Magi Madoka Magica)
Madoka for me is more of a plot point than a character. She is the catalyst for which all other characters act and doesn't have much of a personality on her own. Puella Magi Madoka Magica is a show about what would happen if every senshi besides Sailor Moon was the main character. It's not great alone for this reason, but it's a really interesting element.
If you want to hear my thoughts on another character, Sayaka Miki,
check out this link to my blog
, though there be spoilers so be warned.
5. Harukaze Doremi (Ojamajo Doremi)
C-c-cute? I don't know what to say about this other than the fact that she's super young. All the ones I don't know are super pink so far!
6. Ichigo Momomiya (Tokyo Mew Mew)
It's been forever since I've read this manga. From what I remember, Ichigo was a bit more spunky than the other characters on this list. I also liked that she kept some of her cat mannerisms outside of her transformation.
7. Nanoha Takamachi (Magical Girl Lyrical Nanoha)
No pink! Well, her magic is pink, but that's not terribly important. Every picture I see of her is up in the air. Does she fly? Is that the bad guy in the background? This confuses me so much, haha.